Cables - Shop Cat6 Ethernet Cables, Cat5e Ethernet Cable, Cat5 Ethernet Cable, Fiber Optic Cables
---
Cables For Sale - Fiber Optic Cables, Network Cables, Outdoor Cables, Bulk Ethernet Cables, Cat6 Cables, Cat5 Cables, Cat5e Cables, Crypto Cables.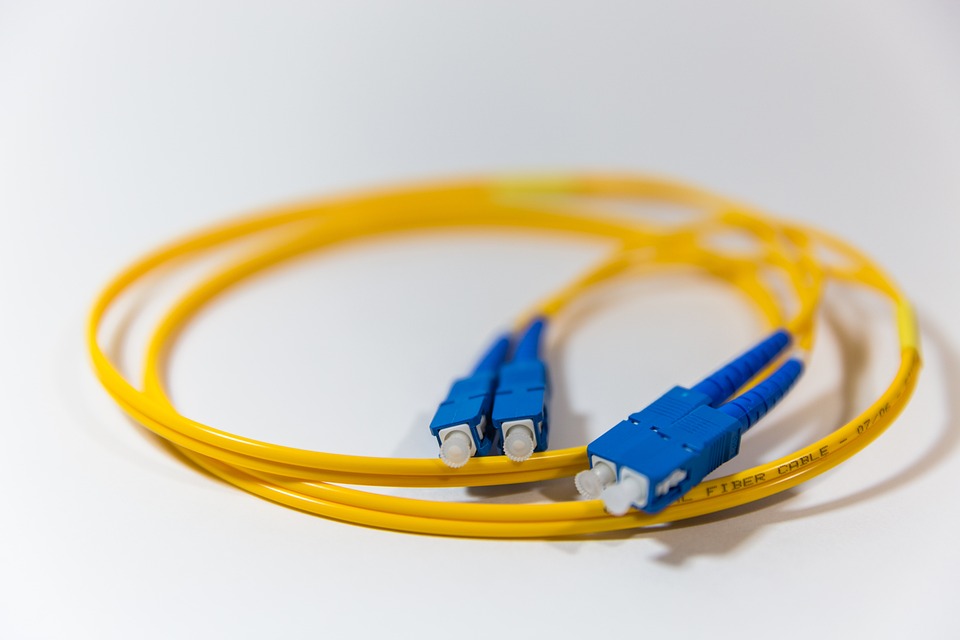 Yellow Fiber Optic Cables - OS1 and OS2 Cables
believe it or not, single mode fiber's single transmission mode is capable of carrying higher bandwidth.
by Vikas Dayal • November 11, 2022
Patch Finder, Network Patch Cables, Custom Fiber Optic Cables, Fiber Optic Cables, Custom Cables, Cables.com
---
Here, we'll continue our series on the variety of fiber optic cables available on Cables.com for your home or business. If you want to be sure you've got the right cables for the job, you'll have to learn more about the differences between different colored cables and what they might mean for your installation. Cables.com is here to guide you through identifying the best option for you!
Yellow Fiber Optic Cables for Maximum Bandwidth and Distance
It's easy to believe that more = better. For that reason, you might think that it's better to go with multi mode fiber optic cables rather than single mode. But believe it or not, single mode fiber's single transmission mode is capable of carrying higher bandwidth. When it comes to transmission distance, single mode emerges the victor by a long shot - its single glass fiber strand transmit 1 to 10 gigs of data and 1080p resolution up to twice as far as OM1, OM2, OM3, or OM4 fiber optic cables. Though a single mode cable's fiber core is significantly smaller than a multi mode cable core, it packs a real punch.
Think single mode fiber optic cable might be the right cable for you? Read on for a look at what Cables.com has to offer.
OS2 Fiber Optic Cables and Accessories
Cables.com offers a variety of cables and accessories for your single mode cable setup.
Starting at the beginning, our Singlemode LC to LC 9/125 Micron fiber optic cables are built to ensure that your network functions reliably. These cables contain ceramic ferrules designed for optimal data transfer and include the highest quality corning glass available, meeting industry standard loss in Insertion and Return, in lengths from 1 meter to 20 meters. You can find these fiber optic cables here at Cables.com for the lowest prices online, delivered with the best service you'll find from any other retailers.
You can also find Singlemode LC to SC cables, as well as LC to ST cables, SC to SC cables, SC to ST cables, and ST to ST UPC Cables. You'll be hard pressed to find this variety in configurations with customizable options
How can you be sure that your single mode fiber optic cable is operating to its maximum capability? By supplementing it with the best equipment available, including accessories from Cables.com.
First, let's take a look at our MTP to 4 Duplex LC OS2 Singlemode Breakout cable. Ranging from 1 to 20 meter in length, it features at MTP/APC female plug on one side and 8 LC/UPC Duplex clips on the other with a 40gb pinout.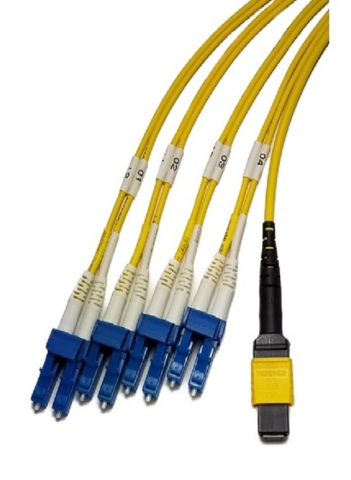 If it's something special you could use, check out Cables.com's APC Singlemode Fiber Cables. These angled physical contact fiber connectors are unique from our Ultra Physical Contact (UPC) cables. At first glance, you'll notice that the connectors are green rather than blue. Furthermore, while UPC connectors are curved slightly for better core alignment, APC connectors are polished at an 8-degree angle. Though UPC connectors have less return loss than APC, APC connectors are a better fit for more sensitive applications like those in higher optical wavelength ranges. Here on Cables.com you can find SC to SC APC Fiber, LC to LC APC Fiber, and FC to FC APC Fiber in lengths between 1 and 50 meters. We even offer Singlemode 9/125 Colored Cables.
Are we missing the part or length you're looking for? Never fear! Remember that you can always reach out to us with your inquiry - and be sure to check out our Custom Cable Configuration tool while you're at it! Visit our Quick Patch Finder for Network Cables and Power Cords for some assistance. This handy engine allows you to browse a variety of lengths and uses based on you and/or your organization's particular needs. As always, don't hesitate to reach out to us directly at 631-617-5190, or at (800) 372-3725 Toll Free. To contact us online, fill in the form and we'll message you in response so we can get to work meeting your data needs.
SHOP CABLES NOW: OS2 SINGLEMODE PATCH CABLES - APC SINGLEMODE FIBER CABLES - SINGLEMODE COLORED CABLES
---