Cables - Shop Cat6 Ethernet Cables, Cat5e Ethernet Cable, Cat5 Ethernet Cable, Fiber Optic Cables
---
Cables For Sale - Fiber Optic Cables, Network Cables, Outdoor Cables, Bulk Ethernet Cables, Cat6 Cables, Cat5 Cables, Cat5e Cables, Crypto Cables.
Find the Right Cables for Your Business
Cables.com offers a variety of data center cables that are guaranteed to help your data center function at top capacity.
by Vikas Dayal • November 15, 2022
Data Center, Cables.com, Adapters, Power Cords
---
Whether you run your business from your home garage or own servers halfway across the world, you can rely on Cables.com for the right cables for your operation. We offer UL listed IEC320 Power Cords and accessories you need to keep the heart of your business running strong. Read on to find the plugs, converters, adapters, and splitters that are guaranteed to be right for the job.
Optimizing Your Infrastructure with Cables.com
What is a data center? Simply put, a data center is a site responsible for storing and sharing the applications and data that make up an organization's data infrastructure. Without this essential location and its operations, key day to day functions would cease. Therefore it's important to make sure that your data center is running off the best equipment available. Cables.com offers a variety of data center cables that are guaranteed to help your data center function at top capacity.
IEC320 Power Cables
When it comes to data center applications, IEC320 power cables are meant primarily for connecting a PDU (power distribution unit) and a server. An IEC connector refers to a type of cable that meets the International Electrotechnical Commission standards. These cables consist of a "male end" with a C14 or C20 plug partnered with a "female end," commonly a C13, C15, or C19 plug. These cables are all UL listed, meaning that they've been tested by UL Solutions and found to meet all requirements for data center functions.
Starting with the basics, Cables.com offers the C14 to C13 cords most commonly used to power equipment in data centers. Our IEC320 C14 to C13 power cable is available in a variety of colors and lengths, with quick shipping from locations across the continental US! This includes 10 amp and 250 volt cables in an 18 awg SJT jacket, which are sufficient enough for most servers - but we offer 13 amp, and 15 amp cables as well, in addition to 10- and 15-amp splitter cables so you can power two or more machines from one source.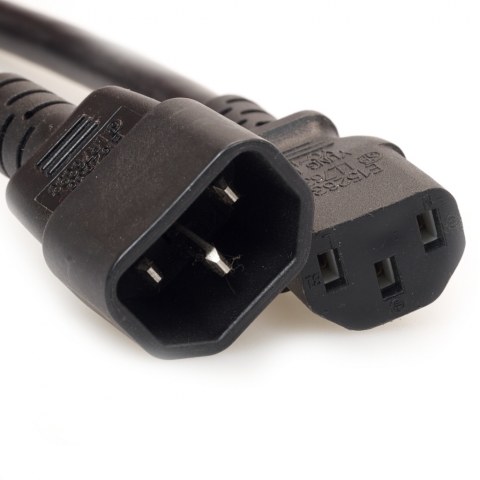 Here on Cables.comyou can find locking C13 to C14 power cables, as well as C14 to C13 cords with angled plugs and connectors for cramped server racks where every bit of space counts.
What about C20 plugs? A C20 plug is the ideal power connector for high-current applications like high-power workstations and servers in addition to UPS (uninterruptable power supply) switches. You might find C13 to C20 power cables in data centers or server racks where the PDU has C19 receptacles and the servers have C14 plugs. These cables are rated for 15 amps, and like many of our cables can be obtained in a variety of lengths and colors.
What if you need to connect an IEC320 C13 receptacle to a NEMA 5-15 plug, like in the case of a PDU? Here on Cables.com you can find the right converter cables for the job, including a splitter that will let you split one C13 to two 5-15 ports.
Cables.com offers IEC C14 to IEC C5 power cords from 3 to 10 feet in length, C14 to C7 power cords, and C20-C21 power cords - all UL listed and suitable for your business's data center needs.
Custom Cables for Your Needs
Can't find exactly what you're looking for? Visit our Quick Patch Finder for Network Cables and Power Cords for some assistance. This handy engine allows you to browse a variety of lengths and uses based on you and/or your organization's particular needs. If your request continues to elude you, use our Custom Cable Builder for just the right fit. As always, don't hesitate to reach out to us directly at 631-617-5190, or at (800) 372-3725 Toll Free. To contact us online, fill in the form and we'll message you in response so we can get to work meeting your data needs.
SHOP CABLES NOW: 15 amp C14 to C19 PDU Power Cords in All Colors - 15 amp C14 to C21 PDU Power Cords - IEC60320 C20 to C15 Power Cords
---