Cables - Shop Cat6 Ethernet Cables, Cat5e Ethernet Cable, Cat5 Ethernet Cable, Fiber Optic Cables
---
---
Optical Fiber at Cables.com
About Optical Fiber Internet
Fiber optic cables will always beat out options like traditional broadband cable internet or VoIP for communication.
by Vikas Dayal • March 28, 2023
Fiber Optic Cables, Network Patch Cables, Network Patch Cords, Patch Finder
---
How does fiber optic internet work, and what are the advantages of using it for communication? How does it compare to other forms of data transmission like broadband, and what are the different types of optical fiber? We've talked about fiber optic internet before, but today we'll revisit optical fiber and learn more.
How Does Fiber Optic Internet Work?
In previous posts we've talked about how optical fiber internet works, but today we're going to revisit the topic and delve a little deeper.
In short, fiber optic cables work by transmitting data through pulses of light that travel through their glass filament cores at the speed of light. These glass cores consist of a flexible, transparent fiber drawn to a diameter that's even more fine than a strand of human hair. This translates into data transfer speeds of up to 40 GB at distances of up to 150 meters in the case of our 10-gig OM3 Fiber Optic Patch Cables.
Broadband Vs. Fiber
What makes a broadband internet connection different from fiber optic internet? The key difference is speed: namely, the speed of light, in the case of optical fiber. Some sources estimate that fiber optic connections operate at speeds nearly a million times faster than standard broadband internet. There's also significantly more bandwidth. In the case of a single-mode fiber optic cable like Cables.com's OS2 Single Mode Fiber Optic Cables, you can achieve near unlimited bandwidth.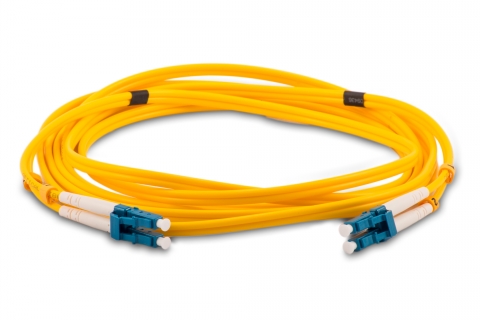 What are the Different Types of Optical Fiber?
Here at Cables.com, we stock both Single Mode and Multi Mode Fiber Optic Cable. As mentioned previously, single mode fiber optic cables hold a significant advantage in terms of both bandwidth and reach, with better numbers on insertion loss and return loss. But those benefits come with one drawback: price. Single Mode optical fiber will be more expensive than multi mode, but that doesn't mean you have to lose out on quality. For a significantly lower cost, multi mode optical fiber cable like our OM4 40 GB fiber optic patch cable is often more than enough for most data center networks.
Advantages of Using Optical Fiber for Communication
In terms of speed and reach, fiber optic cables will always beat out options like traditional broadband cable internet or VoIP for communication. Speed and stability are the key elements to keep in mind, and while those may fluctuate with your average phone bill, you'll only pay the usual rate for your fiber optic connection. This is the case even when you're using your optical fiber cable for both voice and data communication.
Optical Fiber and Safety
Whether your fiber optic cable is being installed in a communal office space or a dense server rack, it's important to keep the safety of the users in mind. Cables.com offers fiber optic network patch cords specifically intended for plenum spaces. What are plenum spaces? They're those hard-to-reach, hard-to-see places like ceiling ducts and the spaces between walls in your home or office space, and that's where cables are often run.
Our fiber optic cords with plenum jackets are approved by local fire codes for in-wall installation. This means that in the event of a fire, they'll burn slowly and with less smoke and gas than many other cables, which means they'll pose less of a safety risk.
Shopping Optical Fiber Cables at Cables.com
Our cables are high quality and competitively-priced, and we want you to be sure that you're buying the best cable for the job when you buy from Cables.com. Check out our Quick Patch Finder tool if you're not sure exactly what cable you need. Have questions? Feel free to CONTACT US or send us an email at sales@cables.com! We look forward to working with you.
SHOP NOW: Custom Fiber Optic Cables - 10-gig OM3 Multi Mode Fiber Optic Cables - OS2 Single Mode Fiber Optic Cables
---