Cables - Shop Cat6 Ethernet Cables, Cat5e Ethernet Cable, Cat5 Ethernet Cable, Fiber Optic Cables
---
---
How Does Fiber Optic Cable Work?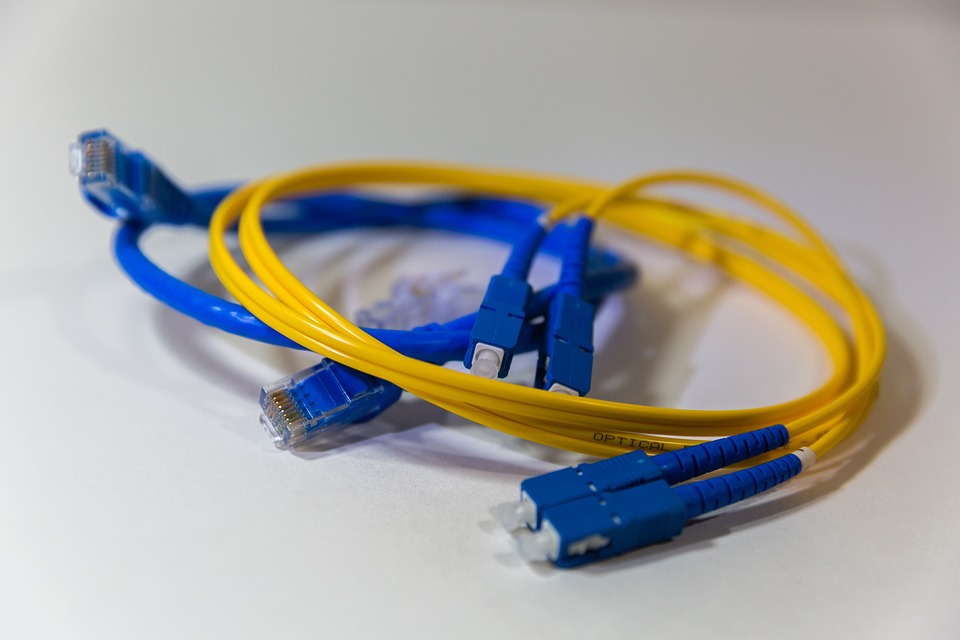 single mode fiber optic cable and multi mode fiber optic cable
Fiber optic cables work by transmitting data through pulses of light that travel through the glass filaments at the speed of light.
by Vikas Dayal • March 03, 2023
Datacomm Cables, Fiber Optic Cables, Network Patch Cables, Patch Finder
---
Fiber optic cable networks, also known simply as "fiber," are on the cutting edge of internet connectivity today. Though there are still numerous uses for ethernet and standard wireless connections, fiber optic cables will get you the fastest, most reliable internet speeds - and as you might expect, they're priced accordingly. How exactly do these cables work, and why should you choose them over other types of network patch cables?
What Are Fiber Optic Cables?
What exactly are fiber optic cables? In terms of construction, they differ from ethernet cables in many ways. Consider the name first and foremost - "fiber" refers to the many superfine glass filaments contained within the cable jacket, whereas other types of cable would typically contain traditional copper instead. What makes this glass so special? Fiber optic cables work by transmitting data through pulses of light that travel through the glass filaments at the speed of - you guessed it - light. As a result, your fiber connection is far less likely to get distorted over long distances like connections reliant on copper cables might be.
Single Mode vs. Multi Mode Fiber Cables
There are two different types of fiber optic cords - multi mode fiber, and single mode fiber. Let's consider single mode fiber optic cables first. Cables.com's Datacomm single mode cables offer exceptional quality at the lowest prices in the industry. What are the perks of choosing a single mode cable over multi mode? You would think that multi mode would be better, right? When it comes to fiber optic connections, though, you would be mistaken. Single mode fiber optic cables offer near-unlimited bandwidth. Its features include low insertion loss and high return loss, as well as high quality zirconia ferules in some instances. Cables.com offers a variety of configurations, including APC (Angled Physical Contact) Single mode Cables and Single mode LC to SC 8/125 micron cables made with the highest quality Corning glass. These hair-fine glass cores are contained within standard yellow PVC jackets, some of which are riser-rated, and they're factory tested for optimum performance. Our LC to LC Single Mode Fiber Optic Cable with Flexible boots offers the security of a booted connectors that fit snugly into receptacles without sacrificing flexibility, allowing for up to 90 degree bending on either end.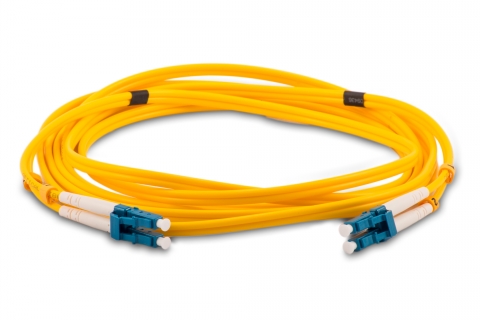 In terms of speed and reliability of your internet connection, single mode is the best option by far. The noteworthy downside is that it's priced accordingly. While single mode fiber cable only allows for one type of light mode to be transported at any given time, multi mode fiber cable allows for multiple types. Cables.com offers both 10Gb OM3 and 40Gb OM4 Fiber optic cables. Our OM3 cables are capable of transmitting data of speeds up to 40Gb up to 150 meters, and our OM4 cables can achieve a performance of 100G over 100 meters.
Our LC to LC 40GB OM4 Armored Riser Aqua Fiber Cables are 50 micron 850nm laser optimized. Their best feature is a rugged 3mm diameter jacket making them ideal for installations in areas with dust, moisture, and rodents.
What Fiber Optic Cable is Right For Me?
With so many options, it's understandable that you might not be sure where to start. Cables.com wants to make your cables-shopping experience as easy and convenient as possible. Use our Quick Patch Finder tool to narrow your options down based on your cables need. You also have the option of purchasing Custom Cables, combining your choice in cables with the configuration or jacket color you would like.
More Questions?
We have answers! Reach out to us by email at sales@cables.com, or Contact Us with our web form. We look forward to helping you with your cables shopping!
SHOP NOW: Single mode SC/SC 9/125 Micron Fiber Optic Cable - LC to LC OM4 Plenum Fiber Cables - LC to SC OM3 Aqua Fiber Optic Cable
---