Cables - Shop Cat6 Ethernet Cables, Cat5e Ethernet Cable, Cat5 Ethernet Cable, Fiber Optic Cables
---
Cables For Sale - Fiber Optic Cables, Network Cables, Outdoor Cables, Bulk Ethernet Cables, Cat6 Cables, Cat5 Cables, Cat5e Cables, Crypto Cables.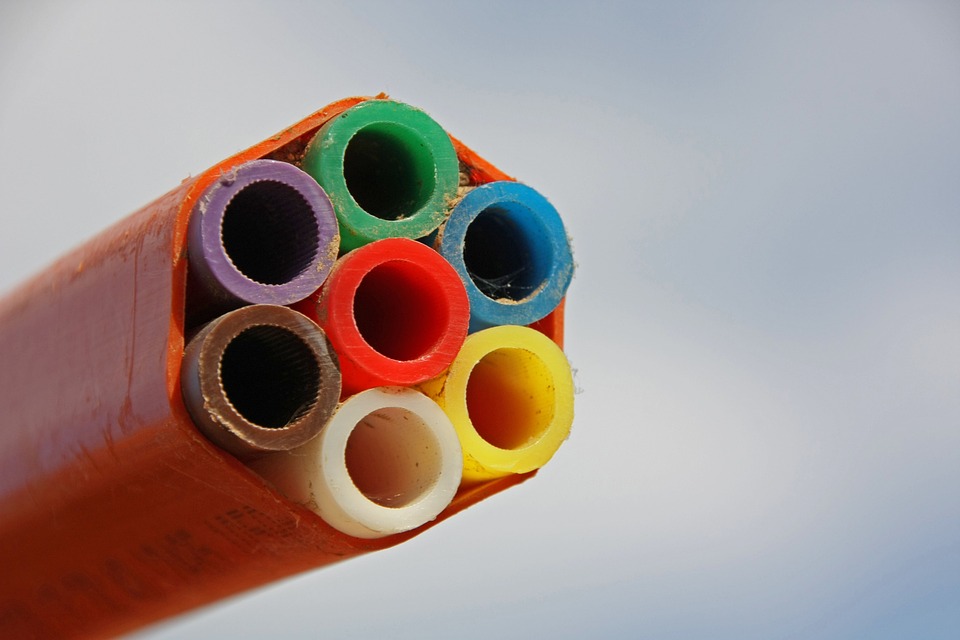 Singlemode and Multimode Fiber Optic Cable Construction
What makes a fiber optic cable, and more importantly, what makes it work? There are multiple components that are essential to the function of a fiber optic cable.
by Vikas Dayal • December 30, 2022
Cables.com, Custom Cables, Custom Fiber Optic Cables, Data Center, Datacomm Cables, Fiber Optic Cables, Network Patch Cables
---
What makes a fiber optic cable, and more importantly, what makes it work? There are multiple components that are essential to the function of a fiber optic cable, and today we'll examine them and discuss what makes each one so important. We'll also look at Cables.com's fiber optic cables offerings and learn about what makes them some of the best on the market today. When it comes to fiber optic cables, quality is essential - so let's take a look at what makes a fiber optic cable go.
What's in a fiber optic cable?
Let's consider the basic components of a fiber optic cable: core, cladding, protective coating, ferrule, and connector. The "fiber" that is so essential to the functionality of these cables is generally made up of optical fiber, a fine, flexible, transparent fiber made of glass or plastic about as thin as a strand of human hair. What these fibers do is transmit data over longer distances and at higher bandwidth than electric cables, resulting in less signal loss and EMI, or electromagnetic interference. The fibers are enclosed within a layer of transparent cladding material responsible for internal reflection, which is in turn coated by a layer of something like acrylic polymer in order to protect the fiber from damage without hampering its function. The sturdy protective jacket that shields the delicate internal fiber is often color-coded depending on the particular type of fiber used: single-mode, or multimode.
Fiber Optic Cables on Cables.com
Cables.com offers both single- and multimode fiber optic cables. These Datacomm cables are available in a variety of configurations, with "standard" color jackets (yellow for singlemode, aqua for multimode) as well as custom fiber optic cable jacket colors.
Our Datacomm OS2 Single Mode Patch Cables, found here in their more common yellow jackets, offer virtually unlimited bandwidth due to a smaller core than multimode fiber optic cable, which means that there is less concern about signal interruption. Datacomm's OS2 9/125 LC to LC single mode fiber optic cable features high-quality Corning glass as well as ceramic ferrules ensuring optimal data transfer, and duplex LC UPC connectors on each end. These singlemode cables are available in lengths from 1 to 300 meters, and can also be purchased with flexible boots.
While singlemode fiber optic cable is meant to propagate a single light mode, multimode fiber optic cords are capable of supporting multiple light modes all at once. Multimode fiber optic cores are thicker, and their biggest selling point is that they more easily support the kind of distance and density many businesses require for their data center operations.
At Cables.com, you can find our OM1 LC to LC 62.5 Micron fiber optic cables in a riser-rated orange jacket. These cables terminate in LC UPC (Ultra Physical Contact) polished connectors and are machine-tested with their test results available in each bag. You can be confident that you're purchasing a reliable network patch cord when you order from Cables.com.
What about aqua multimode fiber optic cables? At Cables.com you can purchase 10-gig OM3 and 40-gig aqua OM4 fiber optic cords. Datacomm Cables manufactures a complete line of premium multimode fiber optic cables at the lowest prices in the industry without sacrificing quality. This includes cables like our OM4 LC to SC Duplex Multimode Fiber Cables, which are 50-micron 850nm laser optimized.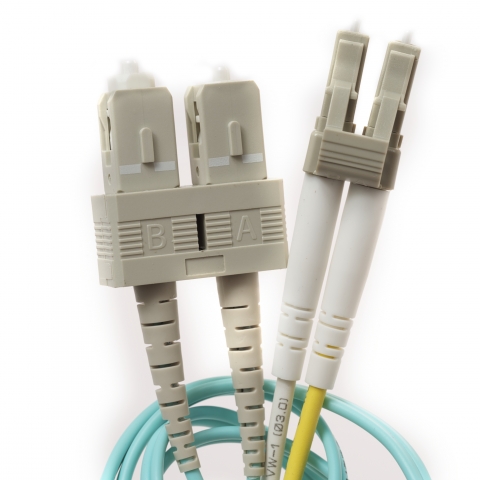 If you're unable to find the right Datacomm fiber optic cable in our extensive catalogue, Cables.com's Custom Cable Builder Template can walk you through setting up the configuration you're looking for. Don't forget that you can also order any of our cables in custom colors, and you should consider buying your fiber optic cable in bulk if you're looking to supply your business's data center. Now that you know what a fiber optic cable is made of, you know that quality is essential - and you'll find no quality higher than Cables.com!
SHOP NOW: LC TO LC 40GB OM4 Armored Riser Aqua Fiber Cables - APC Singlemode Fiber Cables - Fiber Optic Mode Conditioning Cables
---