Cables - Shop Cat6 Ethernet Cables, Cat5e Ethernet Cable, Cat5 Ethernet Cable, Fiber Optic Cables
---
Cables For Sale - Fiber Optic Cables, Network Cables, Outdoor Cables, Bulk Ethernet Cables, Cat6 Cables, Cat5 Cables, Cat5e Cables, Crypto Cables.
Ethernet Cables and ethernet cords copper wire and PVC coating composition
Cables.com's Datacomm ethernet cables are composed of high-quality materials guaranteed to meet your home, office, or data center connection needs
by Vikas Dayal • December 27, 2022
Cables.com, Cat5e / Cat6 Cables, Custom Cables, Data Center, Datacomm Cables, Network Patch Cables, Network Patch Cords, Patch Finder
---
If you've purchased your ethernet cables from a reliable retailer like Cables.com, you probably haven't worried about whether or not they're made of the "right" stuff - you might not even know what the right stuff is! After all, all that matters is that your ethernet cords are doing the job, and doing it well, right? But maybe you've asked yourself exactly what it is that makes an ethernet cable go. Cables.com's Datacomm ethernet cables are composed of high-quality materials guaranteed to meet your home, office, or data center connection needs. Let's take a look at what makes these cables shine!
The Composition of Ethernet Cables
Let's start from the inside out. When it comes to ethernet networking, there are two types of conductor cables within the outer coating of the ethernet cord: either CCA, or Copper Coated Aluminum, or solid copper conductors. For obvious reasons, CCA cables are generally considered inferior to solid copper - they might be lighter and less expensive, it's common knowledge among professionals that CCA makes for an inferior connection.
Cables.com's Datacomm ethernet cords are made from pure copper wire. Consider our 5e ethernet patch cables with snagless boots - these cables are available in lengths from .5 feet to 200 feet in length, and the quality of their materials means that they'll function at optimum capacity even at their longest lengths. Each end of the cable is made of 50 micron gold plated connectors, and the snagless boots makes them ideal for cramped data centers where space is at a premium.
The interior material of ethernet cords comes in two forms: solid ethernet cable, or stranded ethernet cable. What are the pros and cons of these compositions? Stranded ethernet cables are less vulnerable to damage from movement or handling, which makes them the better option for those traveling or working from home.
On the other hand, solid ethernet cables are less vulnerable to EMI, or electromagnetic interference, which makes them ideal for burial or wiring inside the walls of a business or data center. Cables.com's Outdoor Shielded Ethernet cable is waterproof and made for direct burial. It contains a solid bare copper core, and its shielded cable and connectors means you won't have to worry about signal loss over longer distances.
Now we can move on to the exteriors of Cables.com Datacomm ethernet cables. Ethernet cables will generally have a PVC coating to protect the copper or aluminum wire inside. What makes the cables available on Cables.com special? Our direct burial Cat6a Ethernet Cables are coated in LSZH-rated PVC, or Low Smoke Zero Halogen PVC, which means they're a more rigid cable containing a flame retardant compound. While these cables are more expensive and less flexible than the ethernet cords you might use in your home office, they're higher quality and less likely to be damaged over time.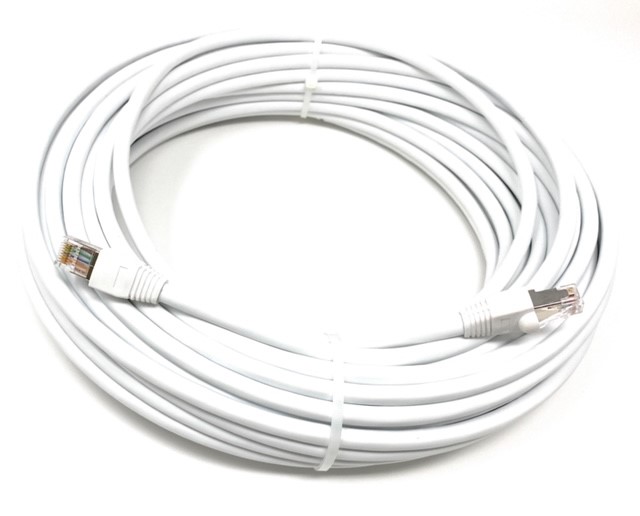 What about ethernet connections in businesses or offices requiring connections beneath floor panels or in-ceiling? Cables.com's TAA-compliant Plenum Category 5e network cables are 350Mhz rated, the fastest speed achievable in 5e! Plenum CMP cabling is the same diameter and size as a regular network patch cable, but similarly flame-resistant to LSZH PVC cables. These cables are manufactured in the USA, and you can purchase them in multipacks and in bulk.
Don't forget that Cables.com's Network Patch Finder is available to help you identify the best cable configuration based on your needs. You also have the option to order custom cables if you can't find just what you're looking for on the website!
SHOP NOW: Category 6A Network Patch Cables - Category 5e Plenum Ethernet Cables - Category 6 Shielded Ethernet Network Cables
---