---
When Should You Buy a Cat6A Ethernet Cable?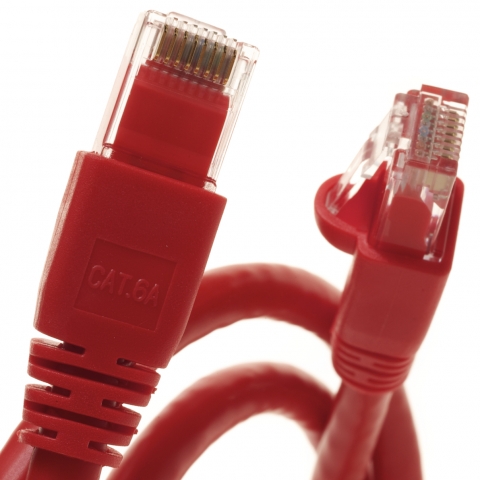 Cat6A Category 6A Ethernet Patch Cables
Category 6A cables are updated versions of Category 6 Ethernet Patch cables, and are currently considered the standard for ethernet cable installations.
by Vikas Dayal • November 03, 2023
Cat5e / Cat6 Cables, Network Patch Cables, Network Patch Cords
---
Category 6A cables are updated versions of Category 6 Ethernet Patch cables, and are currently considered the standard for ethernet cable installations.
What are Category 6A Network Cables?
Though there are now faster and more advanced cables used for data transfer, including fiber optic cables, Cat6A ethernet cables remain the industry standard for data network installations. Cat6A cables use four twisted pairs and operate at frequencies up to 500 megahertz—twice the rate of their immediate predecessor, Cat6.
Why Buy Cat6A Cables?
Newer versions of Ethernet cables are shielded, heavier, stiffer, and more expensive, and they use different connectors, complicating installation. They must also be grounded. The newer design of Cat6A cable enables powerful data delivery over Internet with less heat. These thicker cables distribute heat around the entire circumference of the cable rather than around each twisted pair of copper wire.
Cat6A cables combine affordability with connection quality, and when you're purchasing from Cables.com, you can be sure you're getting the best cable for your money. Rated for up to 500 Mhz, Cat6A cables can offer up to twice the speed of Category 6 cables and are gigabit rated, which makes them suitable for POE (Power Over Ethernet) devices - no additional cables needed! Out Datacomm Cat6A cables offer a reliable and secure connection between your devices and your home or office network.
Retrofitting a network of older cables such as 5 or 5e with newer Cat6A cable can present challenges, but it's easily doable with good cable management and power delivery planning. When you're creating a new network infrastructure from scratch, Cat6A cables provide the best future proofing for perpetually increasing demands for speed and bandwidth. Networks that use bandwidth-guzzling, high-definition video- and computer-assisted design may require Cat6A cables to optimize operations.
You can run your Category 6A cable from your DVR to your cameras and transmit power and video over the same cable. These work great because their heavy jacket lose less power than Cat5e or regular Cat6 cables do. This 3Ft Cat6A molded network ethernet patch cable has a higher specification than a Category 6 cable. It meets all 10G Base-T Ethernet requirements over 100 meters, and like all of our Cat6A Network Ethernet patch cables it's available in multiple colors and lengths.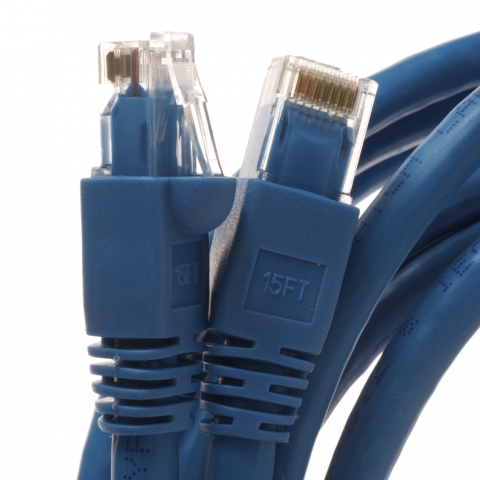 Cables.com carries Outdoor Shielded Cat6A ethernet cables, too. They're built to withstand the elements, which means that they're waterproof, and suitable for direct burial usage. They're also UV resistant. These network patch cables use only bare copper for the best signal transmission and feature a 23AWG heavy duty LLDPE jacket for lifelong durability, which makes them resistant to damage from burrowing pests like rodents or insects. Our Cat6 outdoor cables are rated at 550Mhz, while our Cat6A outdoor cables are rated at 600Mhz, making them suitable for both POE and VOIP applications and up to 10Gbps performance. Their shielded cable and RJ45 connectors cuts down on EMI, or electromagnetic interference.
Shopping Network Patch Cables at Cables.com
Our high-quality Cat6A cables are manufactured right here in the US and come with a lifetime guarantee. We offer our cables for purchase at some of the lowest prices on the market with lightning-fast shipping and easy returns. When you're shopping from Cables.com, you have the option to order your cables in custom colors, lengths, and configurations based on your specific needs. You can also order Cat6A ethernet cables in bulk. If you have any questions about placing an order with us, feel free to Contact Us through our website or send us an email at sales@cables.com!
SHOP NOW: 10 Gb Shielded Category 6A Ethernet Cables - Cat6A Shielded Outdoor Cables - Cat6A Slim Ethernet Cable
---