---
What is Fiber Optic Cable Made Of?
Fiber Optic Cables from Cables.com
Fiber optic cables, or optical fiber, work by transmitting data through pulses of light that travel through glass filaments at the speed of light.
by Vikas Dayal • November 07, 2023
---
Fiber optic cables, or optical fiber, work by transmitting data through pulses of light that travel through glass filaments at the speed of light. Fiber optic cable is much faster than the fastest copper network cables.
What Are Fiber Optic Cables Made Of?
Fiber optic cable technology works by transmitting data through pulses of light traveling to and from your device across glass filaments at the speed of light. The word "fiber" here refers to the many superfine glass or plastic filaments contained within the cable jacket, whereas other types of cable would typically contain traditional copper instead. These glass or plastic cores consist of a flexible, transparent fiber drawn to a diameter that's even more fine than a single strand of human hair.
Optical fiber cables contain such a core, with a fine protective coating further encased within a layer of "cladding," which is made from a material with a lower refractive index. It's this cladding that contains the traveling pulses of light. Further protected by a strengthening material, the contents of fiber optic cables are finally sheathed in a sturdy jacket that (in most cases) indicates the cable's type and speed.
How Fast is Fiber Optic Cable?
Fiber optic cable networks, also known simply as "fiber," are on the cutting edge of internet connectivity today. Though there are still numerous uses for ethernet and standard wireless connections, fiber optic cables will get you the fastest, most reliable internet speeds. Businesses that require fast access to data and the ability to both download and upload lots of data quickly would particularly benefit from fiber optic cable.
How quickly? That would depend on the type of optical fiber you choose.
Single Mode Fiber Optic Cable
There are two different types of fiber optic cords - multi mode fiber, and single mode fiber. Cables.com's Datacomm single mode cables offer exceptional quality at the lowest prices in the industry. The biggest draw of single mode fiber optic cable is that it offers near-unlimited bandwidth. Single mode fiber optic cables like our OS2 LC to LC 9/125 Micron cable are manufactured with high quality Corning glass cores, and feature ceramic ferrules to ensure optimal data transfer. Their sturdy yellow jackets are resistant to dust, moisture, and rodents. If you are looking for a network patch cable that is virtually immune to electronic interference and can offer great speeds at long distances, this Fiber Patch Cable is your ideal choice.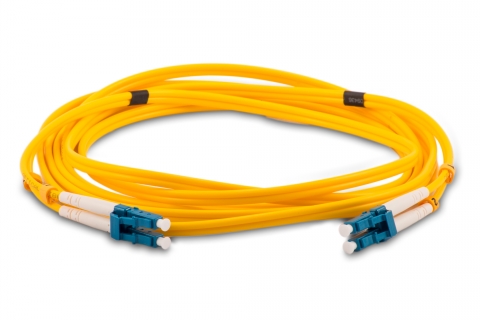 Multi Mode Fiber Optic Cable
On the other hand, while single mode fiber cable only allows for one type of light mode to be transported at any given time, multi mode fiber cable allows for multiple types. Though our multi mode fiber optic cables won't transmit data as quickly as their single mode counterparts, they're priced more affordably and still able to handle high speeds. Our Datacomm-manufactured OM3 cables are capable of transmitting data of speeds up to 40Gb up to 150 meters, while our OM4 cables can achieve a performance of 100G over 100 meters. This SC to SC OM4 40GB fiber optic cable features an aqua blue 50/125 riser rated jacket and quality duplex SC connectors on either end.
Which Fiber Optic Cable is Best For You?
While Single Mode Fiber Optic Cable tends to be a little more pricey due to its unlimited bandwidth, most data centers can manage just fine with less expensive (but no less reliable) Multi Mode Fiber Optic Cable.
If you're looking to install optical fiber, there's an option for you! If you'd like to know more about ordering from Cables.com, Contact Us or reach out to us at sales@cables.com.
SHOP NOW: OM1 Fiber Optic Cables - OS2 Fiber Optic Cables - Custom Color Fiber Optic Cables
---