---
Why Buy Cat6 Cables with Snagless Boots?
Cat6 Category6 Ethernet Cables with Snagless Boots
Cat6 Ethernet Patch Cables with Snagless Boots feature molded plastic shielding to ensure a tight fit into receptacles.
by Vikas Dayal • November 02, 2023
Cat5e / Cat6 Cables, Network Patch Cables, Network Patch Cords
---
Cat6 Ethernet Patch Cables with Snagless Boots feature molded plastic shielding to ensure a tight fit into receptacles. This reduces the possibility of unintended disconnections and damage to the cable.
To boot or not to boot? If you haven't looked into having an ethernet connection installed in your home or office data center before, you might be confused. But at Cables.com you have the option of buying your Category 6 Network Patch Cables with or without snagless boots. What are the benefits of a booted connection, and why should you consider investing in Cat6 ethernet cables with boots?
Cat6 Ethernet Patch Cables with Snagless Boots
As we've mentioned in the past, Category 6 Ethernet Cables are currently the standard for home and office ethernet connections. But not all Cat6 cables are constructed the same way. Some network patch cables feature molded plastic boots meant to relieve stress on the cable as well as ensure that it remains in place, while cables without boots are better for use in the crowded network switches you might find in racks of servers within a data center. The main benefit of a booted ethernet cable is that it's built to fit snugly in its receptacle, which reduces the possibility of unintended disconnections and damage that might occur to the connector or its port in an environment where there might be movement around the cord, like maybe beneath an office desk.
Have you ever taken a good look at an ethernet or network patch cable? If you have, you might have noticed a bit of molded plastic shielding the space where the connector is joined to the length of the cable itself. It may look a lot like this: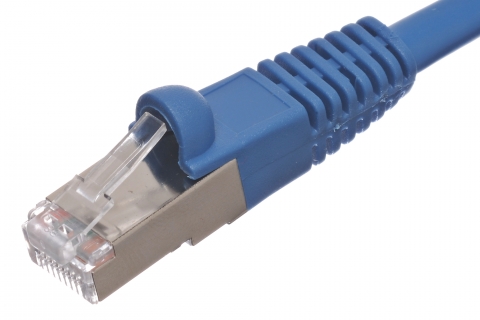 Take a closer look at our Category 6 Shielded Ethernet Cable with a Snagless Boot. See that rounded blue piece of plastic over the 50 micron gold plated RJ45 connector? That piece is meant to ensure a snug fit in the cable's receptacle, so you don't have to worry about the cable being pulled loose or bent sharply unexpectedly. If your cable is installed in a high-traffic work space where employees may be coming and going frequently, there's always the possibility that your cable me be jostled and your connection interrupted. This particular cable contains a high quality 100% bare copper wire interior, and we never use CCA wire, which can't be relied on to carry a signal properly. Our Category 6 ethernet cables are rated for up to 550Mhz, fast enough for gigabit applications, and our shielded cables protect against EMI or Electromagnetic Interference in noisy data environments. These boots may bulk up the cable some, but they work to keep your connection strong and stable. And the best part is, they come with a Lifetime Warranty!
Should You Buy an Ethernet Cable with a Boot?
Not necessarily! You might think purchasing a bootless cable can put your connection at risk - why would you take that risk? The answer is that not all cables are going to be installed in the same environment. A booted cable might be a good fit beneath a desk, but in a high density network switch environment where there might be many cables running alongside it, the added bulk of the boot takes up precious space. If you don't expect your network patch cable to be handled much, a bootless cable will do you just fine! And you'll get the same stellar performance you'd get from a cable with an attached boot.
Ethernet Cables with or without Boots at Cables.com
With the broad range of cables featured on Cables.com, you're sure to find one that matches the particular configurations you're looking for - booted or bootless ethernet patch network cables, plenum-rated, shielded or unshielded, all of it conveniently available here on one website. We offer cable in lengths ranging from a mere .5 feet all the way up to 100 feet and more, and you'll also have the option of purchasing all of our cables - including power cords and fiber optic cords - in multi packs as well as in bulk. Not sure what exactly it is your network needs? Our Quick Patch Finder can help with that! Plug in your specifications, and it will suggest a cable setup that might work for you.
Still have questions? Contact Us or shoot us an email at sales@cables.com!
---