---
What are Ethernet Cables Made of?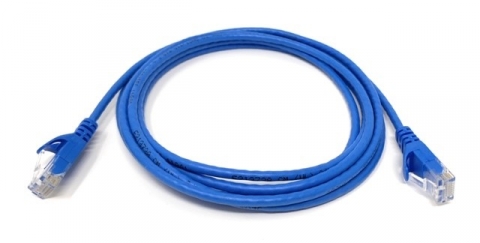 Category 6 Ethernet Cables at Cables.com
Ethernet cables are made of twisted pairs of insulated copper wire contained within a PVC jacket.
by Vikas Dayal • November 10, 2023
Cat5e / Cat6 Cables, Network Patch Cables, Network Patch Cords, Patch Finder
---
Ethernet cables are made of twisted pairs of insulated copper wire contained within a PVC jacket. Cables.com's Datacomm ethernet cables are composed of high-quality materials guaranteed to meet your home, office, or data center connection needs.
What Are Ethernet Cables?
Ethernet Cables belong to a class of wired computer networking technologies remaining in popular use today. They were originally developed in the 1970s and have evolved a great deal since. This has meant increased speed, bandwidth, and reliability, with many cables offered with a protective layer called shielding. Today, the most commonly installed ethernet cables are Cat6 or Category 6 ethernet cables, which makes them the industry standard. Cat6 and Cat6A cables are capable of transmitting data at speeds of up to 10Gbps compared to the original 10Mbps - a huge technological leap!
While fiber optic cable is now seen as the cutting edge of data transmission systems, an ethernet cable is a good way to obtain a reliable and secure connection between your office or home network device and the internet.
What's in an Ethernet Cable?
When it comes to ethernet networking, there will be one of two types of conductor cables within the outer coating of an ethernet cord: either CCA, or Copper Coated Aluminum, or solid copper conductors. For obvious reasons, CCA cables are generally considered inferior to solid copper - they might be lighter and less expensive, it's common knowledge among professionals that CCA makes for an inferior connection. Cables.com's Datacomm ethernet cords contain only pure copper wire.
The interior material of ethernet cords comes in two forms: solid ethernet cable, or stranded ethernet cable. What are the pros and cons of these compositions? Stranded ethernet cables are less vulnerable to damage from movement or handling, which makes them the better option for those traveling or working from home.
On the other hand, solid ethernet cables are less vulnerable to EMI, or electromagnetic interference, which makes them ideal for burial or wiring inside the walls of a business or data center. Cables.com's Outdoor Shielded Ethernet cable is waterproof and made for direct burial. It contains a solid bare copper core, and its shielded cable and connectors means you won't have to worry about signal loss over longer distances.
Outside their copper wiring, ethernet cables will generally have a PVC coating to protect the copper or aluminum wire inside. What makes the cables available on Cables.com special? Our direct burial Cat6a Ethernet Cables are coated in LSZH-rated PVC, or Low Smoke Zero Halogen PVC, which means they're a more rigid cable containing a flame retardant compound. While these cables are more expensive and less flexible than the ethernet cords you might use in your home office, they're higher quality and less likely to be damaged over time.
What about ethernet connections in businesses or offices requiring connections beneath floor panels or in-ceiling? Cables.com's TAA-compliant Plenum Category 6 network cables are 550Mhz rated, the fastest speed achievable in Cat6! Plenum CMP cabling is the same diameter and size as a regular network patch cable, but similarly flame-resistant to LSZH PVC cables. These cables are manufactured in the USA, and you can purchase them in multipacks and in bulk.
Don't forget that Cables.com's Network Patch Finder is available to help you identify the best cable configuration based on your needs. You also have the option to order custom cables if you can't find just what you're looking for on the website. Email us at sales@cables.com with any questions you might have! We look forward to hearing from you.
SHOP NOW: Slim Jacket Cat6 Ethernet Cables - Cat6A Shielded 10Gb POE Ethernet Cables - Category 6/6A Outdoor Ethernet Cables
---