---
Holiday-Essential Cables and Chargers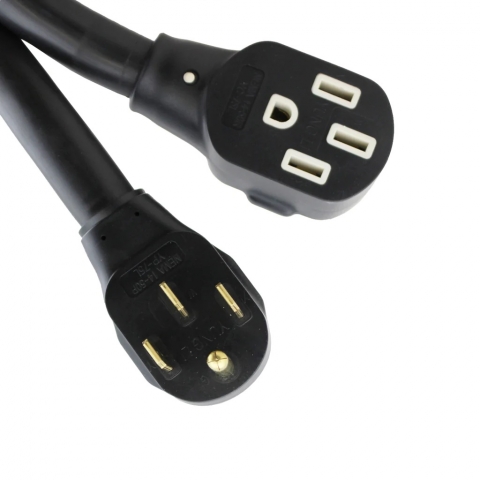 Cables and chargers for holiday travel.
Cables.com stocks a variety of cables and charging devices to get you through the season.
by Vikas Dayal • November 14, 2023
---
Holiday travel and entertainment means it's essential to have the right cables and chargers on hand for your (and your family's) devices. Cables.com stocks a variety of cables and charging devices to get you through the season.
Whether your idea of holiday gift-giving involves the latest and greatest tech toys or you're preparing to take the kids on a long-distance road trip for the annual family gathering, it's essential to have the right cables and chargers on hand for your devices. You must be sure you've got the power cables and charging devices to last you when you're relying on your personal electronics the most. Do you really want to be halfway through the drive to Grandma's when your child's tablet dies, or the phone you were using for GPS directions runs out of battery? Probably not! That's why Cables.com carries a variety of cables and more to get you through the holiday season.
Have You Seen My Charger?
It's easy to lose track of charging cables and devices - they're often so small, and there are always so many of them plugged in around the house that you can't even remember which charger belongs to who.
One solution stands out: don't lose your phone charger at all! Here at Cables.com you can purchase the Qi-certified Wireless Charger for iPhone. With this wireless phone charger, there's no need to move it from a nightstand or side table. Leave it plugged in with the included AC adapter, and you won't have to worry about misplacing the phone or the charger. It also features three built-in coils as opposed to the single coil used by its competitors, which results in a much wider charging area that frees you from the need for precise placement. In order to attain Qi certification, a device must be able to meet four qualifications: 1) The product has passed compliance testing by an authorized testing lab, 2) the product has passed interoperability testing by an Interoperability Testing Center, 3) The product is compliant with the latest version of the Qi Specification, and 4) The owner of the product is a Qi Logo Licensee. This expansive process means that our Qi Wireless Charger is a top-of-the-line product, making it an essential for keeping connected with friends and family during the busy holiday season.
Staying Powered on the Go
What if you're in your car on your way to a family gathering, but your older-model vehicle doesn't have any USB outlets to charge your phone? If you started your shopping early on Cables.com, you won't have a problem. You've probably already ordered yourself a Cigarette Lighter Power Inverter, which can convert DC12V power from your vehicle's cigarette lighter to USB and AC120V power. You can safely charge not just one but two gadgets en route to the fun!
Or you might be a vehicle aficionado who only drives the latest models - and this year, you've gifted yourself a brand-new electric car. That means that regular access to your electric vehicle charging station is essential. The NEMA Power Cords available on Cables.com are guaranteed to meet the power cords standards set by authorities in North America, which makes NEMA certification a must for your home power cables. This applies to your electric vehicle charging station, as well. At Cables.com you can find NEMA 14-50 Extension Cords for Level 2 (240V) EV Charging stations, or any charging station that utilizes a 14-50 connector. Our high-quality factory-molded cables feature 6 gauge wires for all 4 conductors and are compatible with all Teslas as well as many other electric vehicle brands.
Questions?
Can't find exactly what you're looking for? As always, don't hesitate to reach out to us directly at 631-617-5190, or at (800) 372-3725 Toll Free. To contact us online, fill in the form and we'll message you in response so we can get to work meeting your cable needs.
SHOP NOW: NEMA 14-50 Extension Cord for Level 2 EV Charging - USB Type C cable - Crypto Mining Power Cables
---