Cables - Shop Cat6 Ethernet Cables, Cat5e Ethernet Cable, Cat5 Ethernet Cable, Fiber Optic Cables
---
---
How Do Ethernet Cables Work?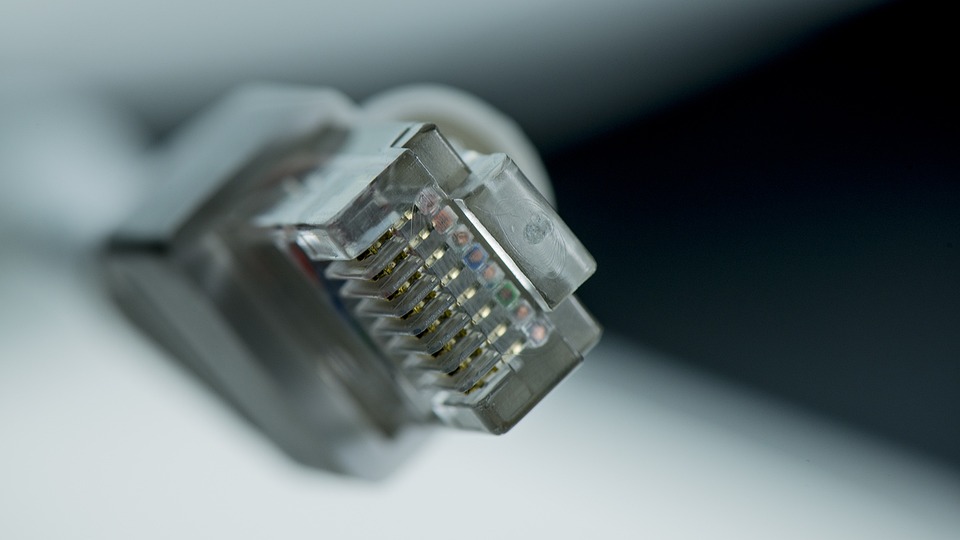 How do ethernet cables work?
Learn more about the high-quality network patch cables available at Cables.com.
by Vikas Dayal • March 07, 2023
Network Patch Cords, Network Patch Cables, Datacomm Cables, Data Center, Custom Cables, Cat5e / Cat6 Cables
---
If you're looking to set up a reliable data network for your home or business, no doubt you've weighed the pros and cons of your options for connectivity. One of the most significant is the choice between a wired or wireless network. Would ethernet connections work best for you, or should you shell out for pricier fiber optic cables? Let's consider ethernet cables in today's post so you can make an informed decision on whether or not it's what's right for you.
How Do Ethernet Connections Work?
Cables.com offers a wide variety of network patch cables, ranging from ethernet cords with traditional copper wiring to fiber optic cables with made with the highest quality Corning glass inside. But our catalog of ethernet cables is by far the most diverse, with different configurations and speeds available.
Before you make your decision, though, you might be asking yourself why you should choose ethernet in the first place. When it comes to the tech world, you can generally assume that newer means faster, which means better. But did you know that a strong ethernet connection will help your information network operate more quickly than standard wifi?
Ethernet cables like our Category 5e, Category 6a, and Category 6 network patch cables work by breaking up information being sent to or from devices like a personal or office computer. These differently sized bits of information include data on the source or destination address that help the information get where it needs to go. Your ethernet connection will allow your devices to communicate over a wired network that might use routers, switches, and hubs to direct this data.
If you've chosen to purchase ethernet cables for your network, the next step is to decide which ones. Cat 5e network patch cables are an updated version of Cat 5 cables, which went out of date in the 1990s. Cat 5e cables can handle speeds of up to 350 MBPS as opposed to Cat 5's mere 100 MBPS. Reliable at high speeds, Cat 5e cables make for a more affordable alternative to pricier Cat6 and Cat 6a patch cables. You can purchase our Datacomm Cat 5e cables with snagless boots featuring a sturdy, insulated outer jacket and a molded boot design to ensure a stable connection.
These days, Category 6 network patch cables are considered the industry standard for networking. They can offer up to twice the performance of a Cat 5e cable and are suitable for POE (Power Over Ethernet) connections.
Our bootless Cat 6 network cables are a good option for high density network switches with little space for movement and rated up to 550 Mhz, featuring 4 pairs of 24 AWG high quality 100% bare copper wire and 50 micron gold-plated RJ45 connectors. These cables are great for data centers, network cabinets, and offices requiring communication between printers, computers, POE switches, and more.
If you really want to step up your network connection, though, consider splurging on Category 6a network patch cables. Cables.com's Cat 6a cables are able to achieve up to 10GB performance over copper up to 100 meters without the use of any media converters. You also have the option of purchasing 28 AWG Cat 6a cables with slim jackets, ideal when you're trying to save space.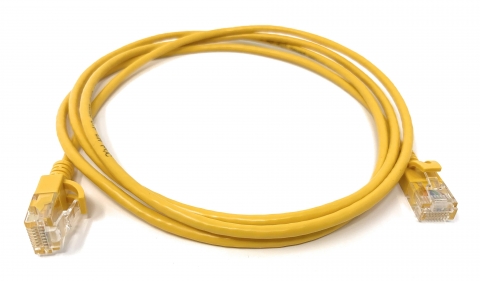 Buy Custom Ethernet Cables
If you still haven't found exactly the right fit for you, there's no need to worry! Cables.com offers you the option to special-order custom cables built to your specifications. Once you've figured out what you're looking for, you can even order your cables in bulk. Feel free to Contact Us to discuss your order, or send us an email at sales@cables.com. We look forward to working with you!
SHOP NOW: Plenum Category 5e Ethernet Cable - Category 6 Outdoor Shielded Burial Cable -Ethernet Crossover Cables
---