Cables - Shop Cat6 Ethernet Cables, Cat5e Ethernet Cable, Cat5 Ethernet Cable, Fiber Optic Cables
---
---
Fiber Optic Cable Speeds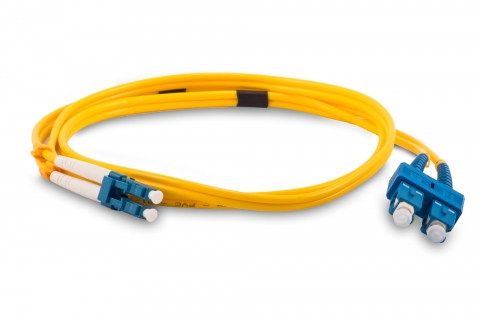 Fiber Optic Cables and Connectors at Cables.com
Fiber optic cable internet connections offer the fastest speeds available today.
by Vikas Dayal • May 16, 2023
Network Patch Cords, Network Patch Cables, Fiber Optic Cables, Datacomm Cables
---
Fiber optic cable internet connections offer the fastest speeds available today. There are a number of factors that can impact the speed of your fiber optic connection. Learn about the different types of fiber optic cables available and why you might choose one over the others.
Why Choose Fiber Optic Cable?
Why should you choose fiber optic cable over something like an ethernet connection for your home or office? There are a number of key factors you should keep in mind when deciding whether or not to use fiber optic cable for your internet connection. Fiber optic networks are considered the cutting connection edge today. You can expect fiber optic internet to run much more quickly than an ethernet network - under ideal conditions, that might mean even more than 100x faster. This translates to an incredible 100Gbps, or 100 gigabits per second in comparison to a high-end ethernet connection speed of only 10Gbps.
Take a look at our OM4 LC to SC Aqua Fiber Optic Cables. These multimode fiber optic patch cables may not operate as quickly as the cables mentioned above, but the big benefit is that they provide nearly three times the bandwidth over conventional cables, which makes them ideal for use in telecommunications, data centers, and other enterprise and consumer needs.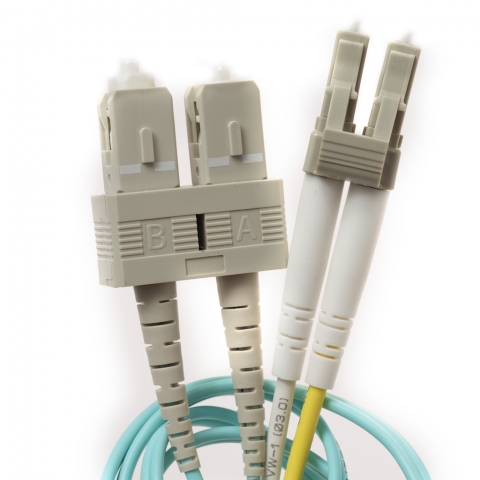 We've discussed this in numerous blogs in the past, but let's provide a quick rehash: The "fiber" in fiber optic refers to the many superfine glass filaments contained within the cable jacket, whereas other types of cable would typically contain traditional copper instead. These hair-fine glass filaments transmit data through pulses of light that travel at the speed of - you guessed it - light. As a result, your fiber connection is far less likely to get distorted over long distances like connections reliant on copper cables might be.
These SC to SC 10GB multimode fiber optic cables feature a 50/125 riser rated jacket and high quality duplex SC connectors on either end, with a slim 2mm diameter making them ideal for dense network switches in data racks.
Single Mode or Multi Mode Fiber Optic Cables?
There are two different types of fiber optic cords - multi mode fiber, and single mode fiber. Let's consider single mode fiber optic cables first. Cables.com's Datacomm single mode cables offer exceptional quality at the lowest prices in the industry. You might be inclined to think that multi mode fiber cables like the OM3 and OM4 cables mentioned above would be the fastest, but you would be mistaken! With its near-unlimited bandwidth, single mode fiber optic cable reigns supreme. Like with our multi mode fiber optic patch cords, Cables.com offers single mode fiber optic cables in a variety of configurations. If you're looking for a network patch cable that is immune to electromagnetic interference (EMI) and can offer great speeds at long distances, our LC to LC single mode fiber optic cord is your best bet.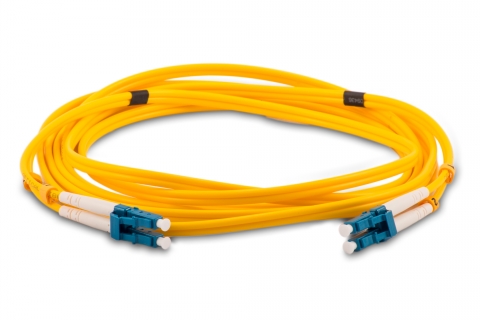 Shop Fiber Optic Cable at Cables.com
Whether you're looking for multi mode or single mode fiber cable, Cables.com has quality cables available at some of the best prices on the market. You can buy your fiber optic cable in bulk, and you have the option of purchasing custom fiber optic cable in the colors and configurations you need. Still have questions? We have answers, and we'd love to hear from you! Contact us today to discuss your order. We look forward to working with you!
SHOP NOW: OM3 Multimode Fiber Optic Cables - OS2 Singlemode Fiber Optic Patch Cables - Custom Color Fiber Optic Cables - Fiber Optic Cable Connectors
---