Cables - Shop Cat6 Ethernet Cables, Cat5e Ethernet Cable, Cat5 Ethernet Cable, Fiber Optic Cables
---
Cables For Sale - Fiber Optic Cables, Network Cables, Outdoor Cables, Bulk Ethernet Cables, Cat6 Cables, Cat5 Cables, Cat5e Cables, Crypto Cables.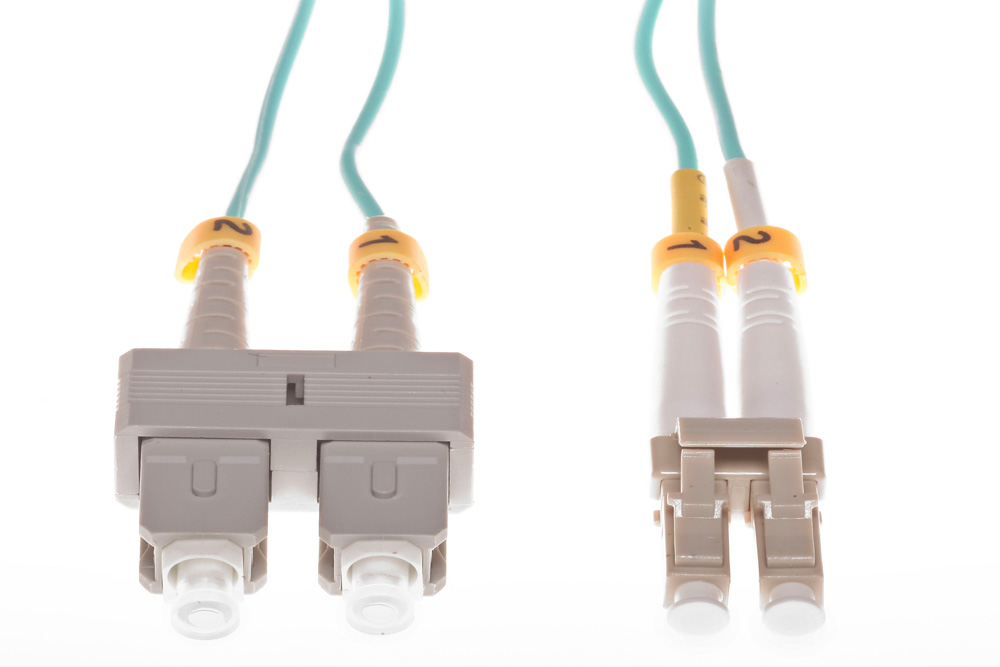 Why Choose an OM4 LC Fiber Cable?
The OM4 fiber cables available on Cables.com include high bandwidth laser-optimized 50/125 micron multimode fiber optic cables.
by Vikas Dayal • October 27, 2022
Fiber Optic Cables, Cables.com
---
At Cables.com, you will find a variety of fiber cables that feature in a variety of color jackets including blue, red, and black. By ensuring you have a well-organized installation, you will save time, boost productivity, and maximize safety.
The various types of fiber cable and jacket colors allow you to quickly and simply recognize the exact type of equipment you have in front of you. Color coding is used in cables to identify fibers, connectors, and other components.
Why Choose an OM4 LC Fiber Cable?
There are many cable types to choose from, which makes it important to consider how you plan to use them. Since 2005, most manufacturers of fiber cables have focused on producing cables with a modal bandwidth (EMB) value comparable to what is specified by the OM4 cable types. The OM4 fiber cables available on Cables.com include high bandwidth laser-optimized 50/125 micron multimode fiber optic cables.
With our economical OM4 riser aqua fiber cables, you can achieve 40G performance over a distance of 150 meters, and 100G at 100 meters.
We also offer OM4 plenum aqua fiber optic cables, which feature high quality duplex LC connectors on each end with fire code-approved plenum jackets for wall installation.
Usage of LC 40GB Fiber Cables
Applications for OM4 fiber cables include the management of data and financial centers, high-speed networks, and corporate campuses among other uses.
40 GB fiber optic cables are designed to effectively establish high-speed data connections in local area networks. This fiber cable features a breakout-style multimode that is compatible with plenum spaces. It is the ideal cable type for patch applications that require high performance, and are also great for systems intended for fiber data distribution.
Fiber Cable Jacket Colors and What They Mean
EIA/TIA-598, the Telecommunications Industry Association, has designated the use of particular jacket colors in order to distinguish between different kinds of fiber cables. They identify fiber types such as MMF or SMF, such as in the case of OM4 LC to LC fiber cable types.
Outside plant cables come with a standard black colored jacket. Blue jackets usually indicate a single-mode fiber cable with the capability of maintaining polarization. Red jackets are usually used for IP cameras, however, depending on the application they may have other meanings.
Cables.com online store provides different color jackets including:
At Cables.com, you can shop our wide selection of fiber optic cables at competitive prices. We guarantee most of our products are in stock and can ship the same day.
Identifying Fiber Color Code
Data centers, labs, and many other places use different kinds of fiber cables including OM4 LC to LC. Colors are very helpful in figuring out to properly handle a connection. Universal identification systems such as the EIA/TIA-598 is recognized worldwide and is the one mostly used by installers.
It is common for installers to find multi-fiber cables that feature many tens or hundreds of fibers. The identification systems make the process simple as it helps technicians to recognize fiber color codes. This is the way to properly sort the various types and numbers of fiber cables in any particular installation.
In addition to the cables featuring different colors, multi-color codes are also applied to jackets, tubes, connectors, buffers, and other components. The cable industry continues to evolve and finds effective ways to organize the multitude of equipment necessary for installations.
Color Coding for Outer Jackets
Outer jackets of various colors or printed labels are an effective way to identify fiber cables installed in outdoor plants. For instance, fiber patch cords and distribution cables will feature a specific color. Optical fiber cable that features only one kind of fiber can quickly be identified as the jacket color.
When it comes to premises cables that have more than one kind of fiber, require a colored outer jacket unless specified. Another way to achieve proper identification is to print a legend that lists the types and quantities of fibers that comprise a particular cable.
In addition to different jacket colors that are described within fiber color code standards, there are other colors that can be used if labeled with a printed indicator placed on the outer jacket. Either way is effective for identifying the classifications of different fibers.
The identifiable color codes must be determined by the user and the manufacturer. Thus, it is important to determine how you will organize your installation and document it accurately for easy referencing. Many techs prefer to follow the established universal color coding system for uniformity with the various installations they perform.
What About Inner Cable Fiber Color Codes?
No matter what type of application, technicians are often faced with identifying the inner structure of a multi-fiber cable. Effective color coding applies to both individual and multi-fiber cables. Inner cable color coding can also be identified by jackets that are assigned a specific coloring coding.
As published by the EIA/TIA-598, 12 fibers comprise the color coding for inner fibers. They are counted in a clockwise direction which makes the color coding universally recognized worldwide by technicians. Following universal coding guidelines is the easiest way to organize projects and ensure any technician is able to easily recognize the equipment they are working with.
Shop Cables.com for Colored Fiber Cables
As a premier cable company based in New York, Cables.com provides high-quality fiber cables in various colors. Our products provide the most effective cabling solutions for various applications. With professional customer service, you will be sure to easily find the perfect types of cables for your next installation.
Shop our colored fiber optic cables here.
---
SHOP CABLES NOW:
CAT5 CABLES - CAT5E CABLES - CAT6 CABLES - CAT6A CABLES - NETWORKING CABLES - FIBER OPTIC CABLES - OUTDOOR CABLES
---