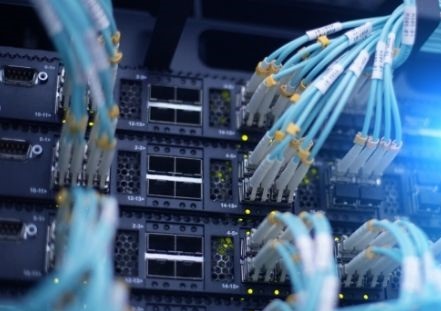 Business networks have evolved along with the internet, from early days when data flowed (slowly, by today's standards) over phone lines through the Ethernet era. Networks evolved on an ad hoc basis, adding connections and cables without much thought to organization; devices connected directly to each other, within buildings, or across campuses via Ethernet cables, wherever a port or Ethernet jack could be found.
Below are a few Ethernet cable options:
As business communications expanded to include file transfers, video communications, and multiple locations, requirements for bandwidth and speed expanded, and point-to-point connections made less and less sense. Business found themselves coping with the chaos of tangled cable connections, inflexible physical layouts, and strain on network connections running all over the place from an overburdened, inefficient array of servers, desktops, and wired phones.
Something had to give, and the Telecommunications Industry Association (TIA), an organization accredited by the American National Standards Institute (ANSI), answered the need for clarity and organization by developing standards for data centers, published as TIA 942, that set forth requirements for structured cabling. The term "structured cabling" is a descriptor for how cables run within a building to efficiently distribute an information network to all the places in the building that would need connections.
Two industry standards establish guidelines for creating structured cabling and for the necessary minimum capabilities of the cables involved. TIA 942 addresses major architectural, structural, and mechanical issues, physical security, fire safety, and redundancy in buildings using structured cabling. TIA 568 addresses the cabling itself, cable connectors, distances, and cable performance and testing. Together these standards create a roadmap to organizing large business networks within and between buildings and across far-flung business enterprises with many locations. The standards provide consistency in design and a way to think about how to subdivide network components and physical systems so anyone who works with them can quickly grasp how the network's organization and connections.
This isn't to say that all networks with structured cabling are identical—far from it. Every building and location is different, and structured cabling designs adapt to the needs of the particular building and enterprise. So while all structured cabling systems will involve similar components, the precise installation of those components at any given location will be unique to that location, its physical structure, and the specific business's needs.
Structured cabling system designs that comply with TIA standards will address:
Entrance facilities, where the ISP and/or phone service connect to the building
Equipment rooms, usually climate-controlled areas that hold cabling or wiring equipment and hubs
"Backbone" cables, which carry telecommunications signals from entrance points to equipment rooms, traveling vertically between floors in a building, to designated telecommunication rooms on each floor
Horizontal cables, which carry signals from the telecommunications rooms to ports or outlets in work areas around a floor of a building
Work areas, where end-user equipment like computers, monitors, phones, and televisions connect via outlets or panels to the network
The benefits of structured cabling systems include:
Simplicity
Although each design is unique to its location and purpose, structured cabling still offers a level of consistency that makes the network setup easy to understand. IT professionals and installers will know generally where things are and how your network is configured. Best practices dictate that you will have created detailed documentation of your configuration, making additions, expansion, and adjustments easy.
Less Downtime
Because the standards for structured cabling have made them more predictable and organized, it's easier for IT professionals to identify the source of problems in the network and to fix them, employing standardized troubleshooting procedures.
Bandwidth
Structured cabling systems supply much more bandwidth than older point-to-point connections, and they do it more efficiently. Most contemporary systems use fast, high-capacity fiber optic cables with bandwidth to spare. Components within telecommunication rooms and even as user endpoints may be connected with fiber optic patch cables, keeping everything running at high speed.
All-in-One Communications Systems Management
Data, voice, and video communications all flow over the same network with structured cabling, providing a unified telecommunications network and reducing the chaos of different kinds of cords and cables connecting every device individually to the network or to other devices.
Cost-Effective Flexibility
By design, structured cabling is flexible. End-users can move equipment around and reconfigure it without having to rewire things or move more than just the Ethernet or fiber optic patch cables used to connect the individual device to the network via existing ports and outlets. This makes structured cabling more cost effective than having to buy additional cables, or worse, open up walls and ceilings to run more cables or redirect cables within the building. Structured cabling anticipates that businesses will add, change, or upgrade components and move things around.
Keeps Your Business Neat and Tidy
One of the unsung benefits of structured cabling systems is that they help keep businesses looking good. Employees, customers, and clients don't want to see a snake's nest of Ethernet cables, phone cords, and coaxial cables crawling all over your floors, hanging out in the open on the walls, or slithering along the ceiling. Structured cables put all this out of sight within the walls, under the floors, or above the ceiling tiles. Even when hidden, structured cabling looks neat; cable management equipment keeps cables organized, supported, straight, and heading in the right direction, so that if you do have to access a section of cabling for repair or replacement, it is easy to identify and reach. Cables are or can be color-coded to identify which kind of signals they're carrying.
Cords running across floors and under desks are a trip hazard, too, so structured cabling improves workplace safety. Structured cabling systems that comply with applicable standards reduce the risk of fires, because the standards specify fire safety measures. Structured cabling standards also reduce the risk of electrical shock or malfunction by identifying the types of connectors, cable and wiring capacities, and grounding requirements for the cabling infrastructures.
Whether you are setting up your first structured cabling system within your business's building or expanding an existing data center, you can order necessary cables, racking, and cable management supplies online here at Cables.com.