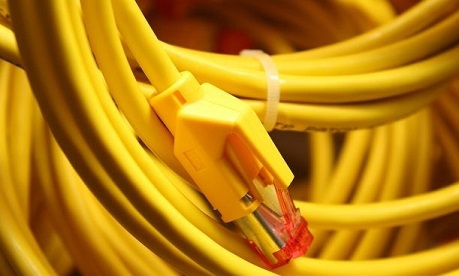 Cat6A cables are faster—they can carry 10 gigabytes per second up to 164 feet. Their greatly expanded capacity and speed make them an attractive choice for networks that require greater bandwidth and speed. Keep in mind these key considerations when choosing category 6A cables.
Thickness, Weight, and Bend Radius
Cat6A cables use four twisted pairs and operate at frequencies up to 500 megahertz—twice the rate of their immediate predecessor, Cat6. This new generation of cables must be larger—and thus heavier—to control crosstalk and interference. This means that fewer cables fit into existing conduit or cable trays. The greater thickness also makes for a bigger bend radius—these thicker cables just don't bend as well in tight spaces. Cat6 cables also have thicker jackets and more twists in the wires, making it harder to prepare them and create appropriate termination points. They simply take longer to install.
Greater PoE and Less Heat
The newer design of Cat6A cable enables power delivery over Internet with less heat. These thicker cables distribute heat around the entire circumference of the cable rather than around each twisted pair of copper wire. The greater heat distribution makes delivery of up to 100 watts of power over Internet (PoE) possible within acceptable heat parameters. Using PoE may reduce the need for other power cables, but networks will still need robust systems to deliver power to all the network components that require it.
Retrofitting a network with new Cat6A cable presents challenges, but it's feasible with good cable management and power delivery planning. When you're creating a new network infrastructure from scratch, Cat6A cables provide the best future proofing for perpetually increasing demands for speed and bandwidth. Networks that use bandwidth-guzzling, high-definition video- and computer-assisted design may require Cat6A cables to optimize operations. Contact Cables.com with any questions about what kind of cable is best for your needs.