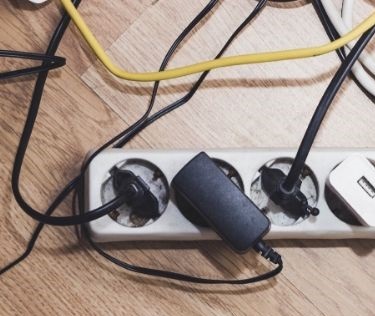 Power cords come in different lengths and colors and with different kinds of connectors to fit various types of uses and equipment. Servers, computers, tablets, smartphones, monitors, televisions, and entertainment devices all need power, delivered through the proper cord with the correct specifications and tolerances for your setup. Connections and specifications vary by country as well. Cords should comply with IEC (International Electrotechnical Commission) or NEMA (National Electrical Manufacturers Association) standards.
Manufacturers label connectors according to a code that defines the type of outlets and equipment they accommodate, the style of blade (flat or round) they use, and the cord and connector's tolerance for heat and electrical current. IEC cords use the letter "C" and a number to indicate compatibility with the type of connection. "C" plus an odd number indicates the female end of the cord that plugs in to the prongs sticking out of the computer. "C" plus an even number means the male end that plugs into the power outlet. In other words, a C13 plugs into a computer, and a C14 plugs into a power strip or "power distribution unit" (PDU). Important types of cords include:
Basic Black
Most computers and home video components come with a starter set of power cords in basic black. These will have the correct type of connector for the anticipated use and voltage in the country where the consumer purchased the unit.
Extension Cords
If the device isn't close enough to a power source, you'll have to connect an appropriate extension cord to deliver current. In the US, extension cords should comply with NEMA standards. These will have the familiar three-prong design, with two flat and one round prong arranged in a triangle to plug into the outlet. The labels indicate whether the cords are for indoor or outdoor use, or both. Long extension cords should have a light that indicates power is running through the cord. Extension cords may be red (outdoor) or yellow (indoor/outdoor) and might display tags indicating they are suitable for light, medium, or heavy use.
Contact us with questions about what types of power cables you need for your data center, home network, or AV setup. It's wise to have some extras of the most important types of power cords on hand in case of a damaged cord, or for when you add equipment. Cables.com makes purchasing power cords convenient, with online order and easy delivery.