Cables - Shop Cat6 Ethernet Cables, Cat5e Ethernet Cable, Cat5 Ethernet Cable, Fiber Optic Cables
---
---
Cat5 Vs Cat6 Outdoor-Rated Ethernet Cables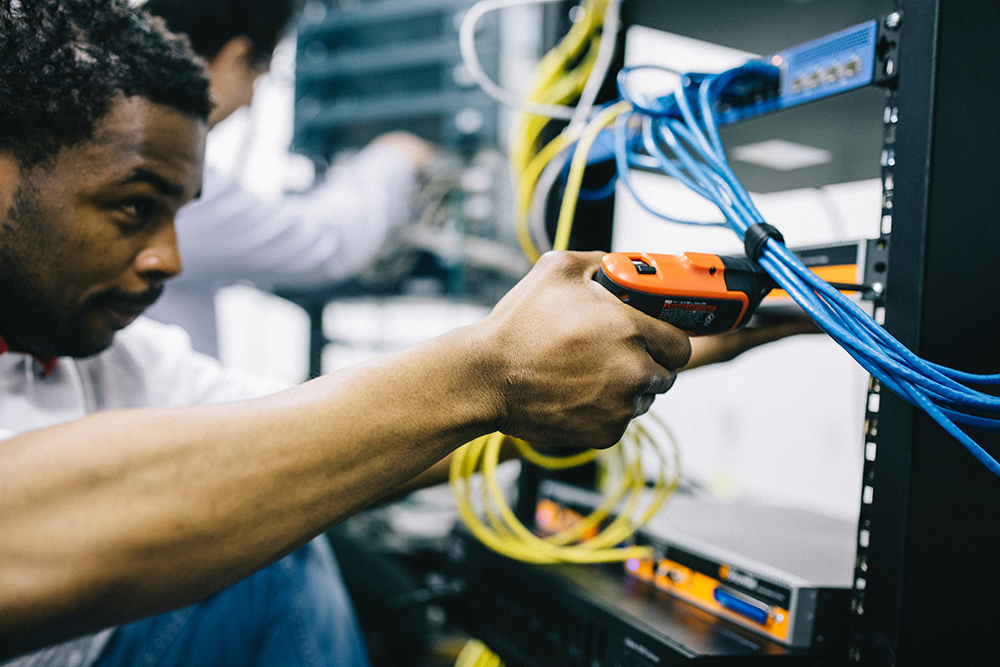 Cat5 v Cat6 Ethernet Cable for Outdoor Installations
Most importantly, for any outdoor application, the jacket material shielding the cable must be waterproof and UV resistant. The RJ45 connectors should...
by Vikas Dayal • May 08, 2022
Custom Cables, Cat5e / Cat6 Cables
---
Internet access continues to expand with more and more people connecting wirelessly, directly through a cable connection (such as a cat5 or cat6 ethernet cable) and even via satellite. While wireless capability continues to expand as well, it still pays to install a direct ethernet connection in many situations. A hardwired connection, for example, won't leave network access dependent on wireless equipment or nearly as vulnerable to hackers or unauthorized use. When installing this type of Internet connection, it's important to consider not only the cables (usually cat5 or cat6 wiring) needed inside the residential or commercial building, but the outdoor ethernet cables required for the project as well.

These two types of cat cabling have similar construction. All ethernet cables depend on a design known twisted pair conductors, a technology invented by Alexander Graham Bell toward the end of the 19th century. A pair of conductors, most often copper wires, are twisted together to enhance their signal transmission capabilities. This technique reduces "cross-talk" which is the interference to the data signal traveling through the wire from neighboring twisted pairs. It also buffers the signal from external electromagnetic forces.

In the nearly 150 years since its inception, improvements including higher-quality copper wire and a greater number of more precise twists have enhanced this technique allowing it to maintain its usefulness for modern broadband Internet applications. The cat5 and cat6 ethernet cables of today are constructed with four twisted pairs of copper wire enclosed in a protective jacket with RJ45 connectors at each end.
Appropriate for most all residential and business ethernet installations, cat5 and cat6 cables both support modern gigabit internet depending on the length of the cable, but even within each designation, there are different types to choose from with various capabilities and specifications:
Cat5e ethernet cables, though not classified separately from older cat5 wiring, have more twists in their twisted pair conductors allowing them to remain suitable for some gigabit internet installations depending on the speed and distance required. These cat5e cables (the "e" stands for enhanced) are also less expensive than cat6 cabling.
Cat6 ethernet cables offer superior speed and greater bandwidth over longer distances supporting between one and 10 Gbps depending on the cable's length. In terms of construction, one of the most important enhancements of cat6 cables is the spline, a separator placed between the twisted pairs inside the cable, further reducing cross-talk between the conductors.
Cat6a ethernet cable provide augmented performance over regular cat6 cables increasing bandwidth up to 500 MHz. Not surprisingly, they also cost more than standard cat6 wiring.
Both cat6 and cat6a ethernet cables are backwards compatible with cat5 and cat5e cables.
Outdoor Rated Cat5e, Cat6 & Cat6a Ethernet Cables - Custom Outdoor Cabling
Most importantly, for any outdoor application, the jacket material shielding the cable must be waterproof and UV resistant. The RJ45 connectors should also be the shielded variety. Our outdoor-rated shielded cat5e cables, for instance have an LLDPE jacket more durable even than PVC. When choosing outdoor ethernet cables, consider whether some or all of the wiring will need to be buried, because not all outdoor-rated cables are suitable for burial. Our outdoor cat6 direct bury cables are UV-resistant and built to withstand extreme temperatures. They won't deteriorate from exposure to water, weather or even wildlife.

When an installation requires running cat5 or cat6 ethernet cables outside, investing in outdoor-rated shielded cables will prevent deterioration, service interruptions and the need for repairs/replacements down the road. Make sure to consider all environments in which the cable will need to run, and if any of it will need to be rise-rated (CMR) for installation between floors of a building or plenum-rated (CMP) approved for installation in plenum spaces such as within walls or above drop ceilings. Creating custom outdoor-rated cables to the exact specifications needed for any project is our specialty!
---