Cables - Shop Cat6 Ethernet Cables, Cat5e Ethernet Cable, Cat5 Ethernet Cable, Fiber Optic Cables
---
Cables For Sale - Fiber Optic Cables, Network Cables, Outdoor Cables, Bulk Ethernet Cables, Cat6 Cables, Cat5 Cables, Cat5e Cables, Crypto Cables.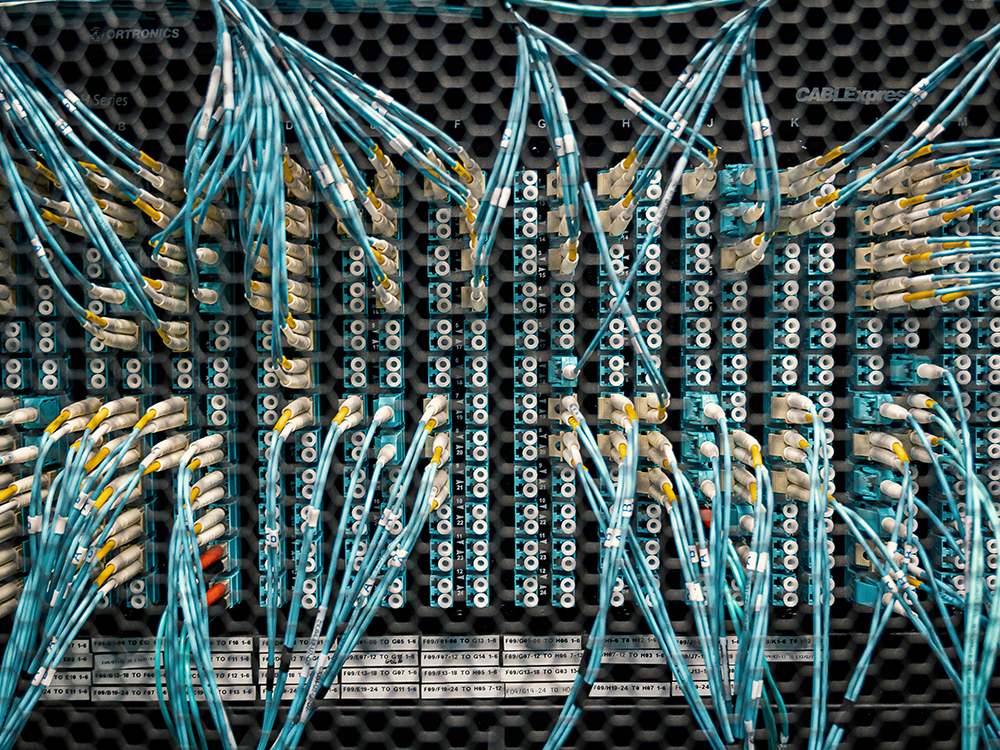 OM3 Multimode Fiber Optic Cables - Cables.com
OM3 Multimode Fiber Optic Cables represent a significant portion of the multimode fiber market. Compatible with both OM2 and OM4 cables...
by Vikas Dayal • April 30, 2022
---
It may seem like the whole world's gone wireless, but if you're someone who knows the difference between single mode and multimode fiber optic cables, you already know that the majority of data transmissions all around the globe make at least some part of its journey through wires and cables of one kind or another. When selecting the right fiber optic cabling for a particular application, the choices go beyond single mode and multimode fiber cable. In fact, if you've already determined you'll need multimode cabling (which is more affordable and less bulky than single mode), you still may not realize you have at least five options to choose from. And that's before you even determine the connection and configuration required.
OM3 Multimode Fiber Optic Cables represent a significant portion of the multimode fiber market. Compatible with both OM2 and OM4 cables, OM3 fiber patch cables literally bridge the gap between 20th and 21st century tech. Easily recognizable from its aqua color jacket, OM3 fiber supports 10-Gig technology at lengths up to 300 meters, with increased capacity at shorter distances. Its slim construction with a fiber core 50 nanometers in diameter, and a finished width of only two millimeters, makes it an excellent choice for densely-populated panels in server rooms and data centers. Plenum-rated OM3 fiber cable can even be used in plenum spaces such as above drop ceilings and within walls and flooring of larger buildings.
The tight-buffered design of OM3 cables means the buffer material is in direct contact with the fiber core. Enclosing the core protects it not only from the force of any weight or strain that the finished cord may need to endure, but also protects the integrity of the signals traveling through it by preventing any light from escaping the fiber. As mentioned above, OM3 cables are finished with an aqua-colored jacket making them easily distinguishable from any other multimode fiber cable.

The connection and configuration needed for any fiber patch cord is a determination just as important as the specific type, length, etc. LC to LC is the most common configuration for OM3 multimode fiber optic cables. However, LC to SC, LC to ST and ST to ST connection options may be required depending on industry or project specifications.
OM3 Multimode Fiber Applications and Versatility
You'll find OM3 fiber cables across many industries transmitting data for telecom, ISP and even surgical applications. They provide broadband connectivity for business offices, educational institutions, government operations and buildings as diverse as hotels and hospitals. Size, safety affordability and compatibility all factor into why OM3 cables support so much of our modern data infrastructure.

Our 10-Gig Aqua OM3 Fiber Optic Cables come with standard, high-quality duplex connectors, typically LC to LC, though other configurations are available upon request. They're not only plenum-rated, but also UV-resistant, flame retardant and self-extinguishing. Rated up to 300 meters for 10 GB applications, our OM3 cables can perform at even higher speeds over a shorter range. Pre-configured in many standard lengths, you can also order custom lengths and configurations, as well as in bulk. Shop convenient bulk packs of five or 10 cables each or special order your bulk fiber cable to meet the specs for your specific project. Our easy-to-use custom cable tool helps you specify exactly what you need and we're eager to help if you have questions at any point in the process.
Shop OM3 Multimode Fiber Optic Cables >>>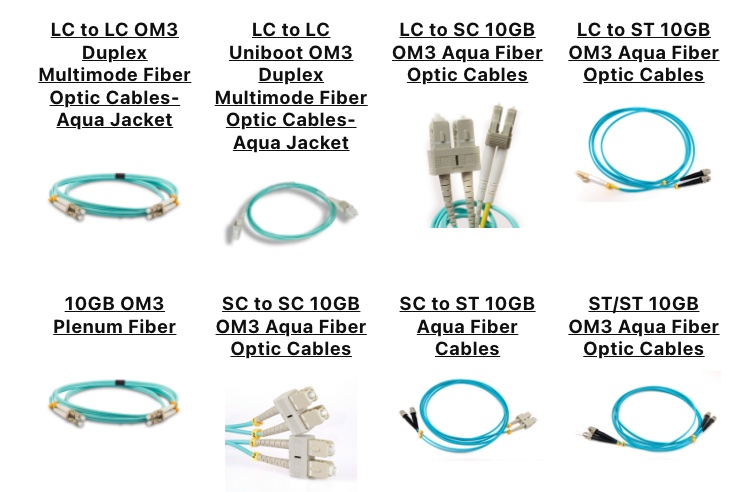 ---