Cables - Shop Cat6 Ethernet Cables, Cat5e Ethernet Cable, Cat5 Ethernet Cable, Fiber Optic Cables
---
---
When Do You Need an Outdoor Extension Cord?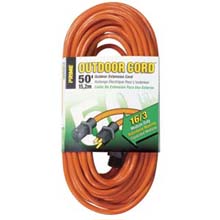 Power cables and extension cords for use outdoors
An extension cord that isn't rated for outdoor use can hurt you or your electronic devices if you aren't careful!
by Vikas Dayal • January 20, 2023
Custom Cables, Power Cables, Power Cords
---
You might think that one extension cable is just as good as any other, but it's important to think about where it will be used and what strains or stresses it might face. An extension cord that isn't rated for outdoor use can hurt you or your electronic devices if you aren't careful! Let's take a look at what makes a good extension cable outdoor-rated, and what Cables.com has to offer.
Outdoor Power Cables at Cables.com
A good outdoor extension cord will be resistant to the elements, as well as any disturbances that might be caused by pests or weather events. If you'll search Cables.com for outdoor power cables, you'll find that we offer a broad selection in a wide variety of configurations. Our SJTW Outdoor power cable is available in numerous lengths, but if nothing listed in the catalog meets your exact requirements, don't forget that we offer custom cablesas well! This heavy duty outdoor cable is built strong for running outside your home or office building. It ensures that you can keep your devices running no matter what the elements might present. This outdoor power cord consists of heavy duty 12 awg 15 amp SJTW jacket, with a molded 5-15 plug and receptacle.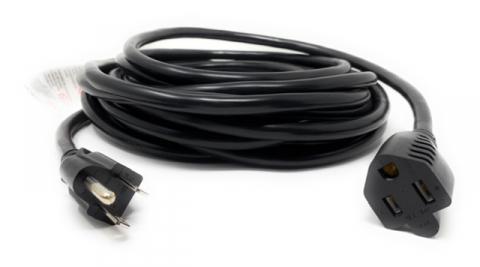 Here at Cables.com, you'll find a wide selection of outdoor extension cables like our 14/3 Contractor Extension Cord. This extension cord comes with an indicator light, a primelight power indicator that will let you know when the cord is in use. Our SJTOW 14/3 Bulldog outdoor extension cords are built to last, ensuring that you'll get the most bang for your buck.
What about outdoor NEMA plugs? NEMA plugs are power plugs and receptacles used in North America as well as around the world that meet the standards set by the US National Electrical Manufacturers Association. This means that they've undergone enough testing to verify that they'll operate safely under designated conditions, whether you're using them inside or outside. Cables.com's indoor/outdoor 16 awg 3 conductor extension cable terminates with NEMA 5-15R and 5-15P plugs, with a voltage of 250 volts.
You can also find outdoor-rated ethernet and fiber cables at Cables.com, with sturdy jackets meant to withstand the climate as well as interruption by pests and handling. But we'll talk about those more in a future post. For now, take a look at the outdoor power cables Cables.com has to offer and feel free to contact us with any questions you might have directly through our web form or at 1-800-372-3725! We're happy to help.
---