Cables - Shop Cat6 Ethernet Cables, Cat5e Ethernet Cable, Cat5 Ethernet Cable, Fiber Optic Cables
---
Cables For Sale - Fiber Optic Cables, Network Cables, Outdoor Cables, Bulk Ethernet Cables, Cat6 Cables, Cat5 Cables, Cat5e Cables, Crypto Cables.
Purchase tools for coaxial wire, crimping and cutting tools, wire strippers, and other network cable tools.
Cables.com offers the cable testers and tools you need for your job at competitive prices and speedy shipping.
by Vikas Dayal • December 23, 2022
Cables.com, Cat5e / Cat6 Cables, Datacomm Cables, VAR
---
Whether you're a data network professional or a DIY-type of person, there are all sorts of tools that you might need to keep your home or business network running at peak conditions. Cables.com isn't just another vendor of cables - we also offer the cable testers and tools you might need for your job at competitive prices and speedy shipping. Let's take a look at some of these quality utilities and learn about their functionality.
Coaxial, crimping and cutting tools for VAR, integrators, and other IT solution providers
IT professionals will find all the Datacomm coaxial tools they might need here at Cables.com. Let's start with the basics: our RG 59/6 Ratchet Crimping Tool. This professional-grade tool is intended for working with CatV "F" connectors, and it's compatible with RG-59, R6, and RG6-Quad cables. If you're working with coaxial cables, this is exactly the tool you'll need for the job at competitive pricing and with quick shipping. You'll likely need a Continuity tester for Ethernet and Coaxial Cable (BNC) as well, essential for testing multiple network cables including coaxial cables and LAN cables.
For your Local Area Network cables, you can pick up Cables.com's LAN tester, or TVR10/100/1000. This particular tool is comprised of two units: the main unit and the remote probe. It's the main unit that does the bulk of the work, like determining the LAN device type and speed. The probe will allow for testing in distribution blocks without interrupting other operations. These two functions make for a complete tool at an affordable price, ensuring that you can get the job done without breaking the bank.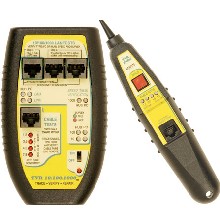 Cables.com also offers compression tools, which are guaranteed to reliably attach your RG6, RG59, F, BNC, RCA, and other network connector types to your network cords. Our crimping tools include the EZ-RJ45 Crimp tool, which is designed to quickly and easily crimp and cut the wires of the EZ-RJ45 connector. The ratcheted straight action crimping ability ensures a uniform crimp every cycle. It also features a built-in cutter and wire stripper for silver satin, and the all-steel frame finish is coated with a black oxide finish to resist rust. Meanwhile, our bladed punchdown tools manufactured by Paladin Tools will allow you to terminate and cross-connect with ease!
We offer a variety of testing tools, from the Real World Certifier for speed tests to the VDV MapMaster for testing Cat6 cables, as well as a Power Panel DVM inline model for detecting network devices.
With so many tools to choose from, it might be difficult to determine exactly what you need. Or perhaps you're on a budget and looking to build your tool set quickly and conveniently. Cables.com offers a variety of toolkits based on your necessities. Consider, for example, our network toolkit. It includes a UTP/STP wire stripper, an RJ 11/12 and 45 ratchet crimping tool, a 110-type punchdown tool, a cable cutter, and a cable tester for RJ45-EIA 568A/568B connections. Our cable and power kit provides an RWC1000 main unit, an RWD1000 remote unit power panel, Category 5/6 DVM standard model and cat6 patch cables, two RJ45/coax adapters, two six-foot printer/pc cables, an hour-long welcome DVD, a zippered protective case, two 9V batteries, and an illustrated user manual. This kit is fabricated in the US and is covered by a one-year warranty!
With all these featured devices and more, IT network professionals and do-it-yourselfers alike are sure to find what they need at Cables.com.
SHOP NOW: D-sub pin crimping tool - 6" wire stripper - round/flat multi-conductor cutter and stripper - multi-modular cable tester for RJ11, RJ12, AND RJ45
---