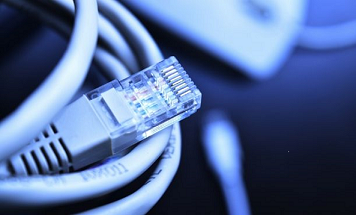 When choosing cabling for your home or business network, you'll have to consider bandwidth, speed, "crosstalk" (interference or "noise"), distance (how far the cable can carry the signal at full strength), and cost. Much of the cabling available seems similar, but here are some of the main differences between Cat5E and Cat6, two of the most common current choices.
The main differences between Cat5E and Cat6 are that Cat 5E cabling is an older standard: it came out in the early 2000s to handle newer, higher speed, higher bandwidth networks. The "E" stands for "enhanced." Cat5E can carry speeds up to 1 gigabit. Cat 5E is less expensive than Cat6. Both types can carry the full 1 gigabit signal for 100 meters (328 feet).
Cat6 cable, which came out only a few years after Cat5E, can carry a 10-gigabit network, with less "crosstalk," but also less distance; the maximum length for a Cat6 Cable to carry a 10G network is 164 feet, and that includes patch cables. Longer than that, Cat6 reverts to the same 1 gigabit maximum speed as Cat5e.
You should also think about how much of your network is strictly internal, and how much is in the cloud. If you don't do much internal networking, Cat5E may be just fine. But if you need a lot of speed on an internal network, and you use a lot of bandwidth-gobbling applications like video, AutoCAD, big SQL databases, and file transfers, you may need Cat6. The good news is that both types of cabling are backwards compatible, with Ethernet connections that will fit older ports.
New and upgraded versions of Ethernet cabling come out frequently, and if you are concerned about having to upgrade too often, you should plan for the future with the most recent, highest performing cabling. It may be more than you need now, but as your business grows, you'll grow into the full capabilities of the cabling. Use the basic ways to compare the differences between Cat5E and Cat6 cables to consider factors for future needs: speed, bandwidth, distance, cost, and resistance to interference. When you've made your choice, you can purchase your cables online. If you're still not sure which type, and how much, cabling you'll need, contact us, and we'll be happy to help you make an appropriate selection for your needs.