Cables - Shop Cat6 Ethernet Cables, Cat5e Ethernet Cable, Cat5 Ethernet Cable, Fiber Optic Cables
---
---
Shielded Ethernet Cables - Protecting Your Network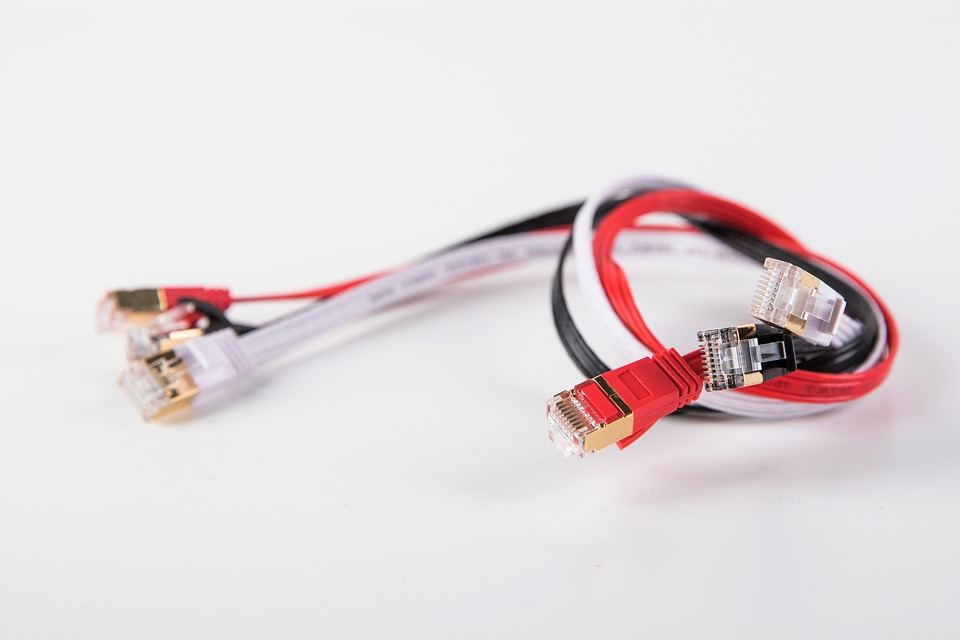 Shielded ethernet cables for network protection
A shielded ethernet cable refers to the protection being afforded to your data
by Vikas Dayal • December 06, 2022
Network Patch Cords, Network Patch Cables, Fiber Optic Cables, Custom Cables, Cat5e / Cat6 Cables, Cables.com, Patch Finder
---
What does it mean when a cable is referred to as "shielded?" The term brings to mind armor, a tough barrier intended to prevent interference. In this post we'll discuss the situations in which a shielded ethernet cable is the best option for your home or business network, and how Cables.com can provide you with the best cables for your ethernet connection.
Shielded Ethernet Cables - What They Are, and What They Aren't
When you hear about a "shielded cable," you likely think of some kind of physical barrier, maybe something like a tough exterior coating. Though some of the ethernet cords on Cables.com are made to handle being run outdoors, in this case a shielded ethernet cable refers to the protection being afforded to your data. Shielded ethernet cables allow for an additional layer of protection between your network connection and outdoor interference in the form of "crosstalk" or "noise" that can occur when multiple cables are run alongside each other. If your network is complicated by heavy machinery, elevators, and fluorescent lights, it's possible if not likely that your ethernet connection is going to be impacted by a great deal of electromagnetic interference (EMI). This is where a shielded ethernet cord comes in handy, protecting and enhancing your cable signal.
Shielded Ethernet Cables at Cables.com
Previously we've discussed the different kinds of ethernet cables likely to be run in your home or business, namely: Category 6 cables, Category 5e cables, and Category 6A cables. Here on Cables.com, you can find these cables as well as those intended for outdoor use at competitive prices.
Our Cat5e Shielded Ethernet Cables can be found in a variety of lengths and colors depending on your needs and preferences, ensuring the most reliable connectivity you can find. These cables are ideal for noisy environments that might be further impaired by high voltage power cables in the area. Our Cat5e shielded cables have connectors and conductors that are shielded from noise and other forms of interference. Consider, for example our Black Cat5e snagless shielded patch cables - these shielded cables are rated for the same high speeds as regular ethernet cords, in this case 350Mhz. They're available in lengths between 0.5 feet and 200 feet. Can't find the exact length you need? Don't forget that you can always build your own custom cables at Cables.com!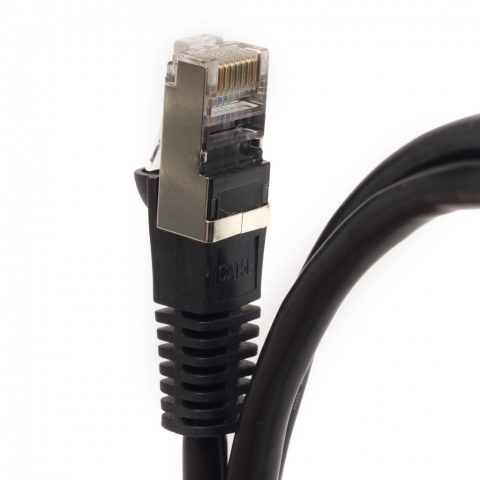 Each pair of our Cat 6a shielded ethernet cables are foil and braid shielded. Combined with their pure copper construction, these cables provide the ultimate protection against EMI. The snagless boots will protect the connectors. Looking to set up a larger, more complex network? Cables.com offers bulk quotes, and we can custom manufacture these ethernet cords to your specific length and color requirements.
What if it's outdoor shielded ethernet cables that you need? Cables.com has those as well! Our Shielded Burial Cat6 Outdoor-Rated cables are both waterproof and animal resistant thanks to their high-quality HDPE jackets, ensuring that your network is protected whether it's at home or in a factory environment. These ethernet cords are made up of RJ45 connectors and 550Mhz rated wire in lengths that range between 25 and 450 feet. Cables.com's cables are shipped quickly and fully guaranteed, which means that you can be confident that you'll have the right cables for the right price in the right amount of time.
Not sure exactly what kind of cable you need? Remember to check out our Quick Patch Finder for Network Cables and Power Cords! If you have any questions or need further assistance with a custom cable setup, you can always contact us online or by phone at 800-372-3725 Toll-Free.
SHOP NOW: RG6 Coaxial Outdoor Rated Cables - Outdoor Fiber Optic Cables - Outdoor Power Extension Cords
---