Cables - Shop Cat6 Ethernet Cables, Cat5e Ethernet Cable, Cat5 Ethernet Cable, Fiber Optic Cables
---
Cables For Sale - Fiber Optic Cables, Network Cables, Outdoor Cables, Bulk Ethernet Cables, Cat6 Cables, Cat5 Cables, Cat5e Cables, Crypto Cables.
Understanding LC-LC and LC-SC Connectors for Fiber Optic Patch Cables
Learn the difference between LC and SC fiber optic patch cable connectors.
by Vikas Dayal • December 09, 2022
Cables.com, Custom Cables, Custom Fiber Optic Cables, Fiber Optic Cables, Network Patch Cables, Network Patch Cords, Patch Finder
---
If you're in the market for fiber patch cables, you'll have come across a great deal of technical jargon that might not mean much to you. Previously we've discussed different kinds of fiber optic patch cables with regard to their speed and what their colors might mean. Today, we're going to look at some of the particulars of fiber optic cord connectors available on Cables.com, and how these parts work to ensure that your fiber optic network is functioning at its very best.
LC-LC and LC-SC Fiber Optic Patch Cable Connectors
If you've every done something as simple as set up an AV device, you know how important it is to plug the right cables into the right cables - which is to say, you know it's not always simple at all. The same applies to your fiber optic patch cords. You'll have noticed while browsing Cables.com for your fiber optic patch cables that different cables use different connectors, regardless of their speed or color.
What exactly is an LC connector? With a bit of research, you'll learn that "LC" comes from Lucent Technologies, which produced the very first LC connectors. For some, LC therefore stands for "Lucent Connector." However, these fiber optic patch cord connectors might also be referred to as "Little Connectors," "Light Connectors," or "Local Connectors."
LC connectors can be found in both single mode and multi mode fiber optic cables. Cable.com's 1m LC APC/LC APC Duplex Singlemode 9/125 Fiber Optic Patch Cable is one such example. This particular cable features an OS2 jacket with an LC male connector on either end, and can be purchased in a variety of lengths with the option of bulk cable purchase pricing. They're ideal for use in high density LANs (Local Area Networks) and provide high performance and speeds.
When it's a multi mode fiber optic patch cord you're looking for, look no further than Cables.com. This LC-LC OM4 Duplex Aqua Jacket Fiber Optic Cable is 50 micron 850nm laser optimized, and in addition to featuring high quality LC connectors on either end is 40GB OM4 rated with an aqua blue 50/125 riser rated jacket in a slim 2mm diameter, making it ideal for dense network switches in data racks.
What about SC fiber optic connectors? SC stands for "Subscriber Connector," but like LC connectors is sometimes known by other names, like "Square Connector" or "Standard Connector." It's a more low-cost option, but it's prized for its durability and the simplicity of its installation.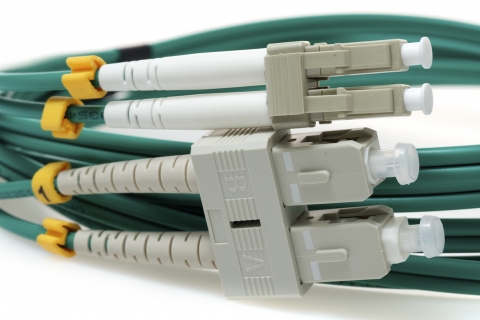 As with LC fiber optic network connectors, these connectors can be found on both single mode and multi mode patch network cables. On Cables.com, you can find our LC to SC 9/125 Duplex Singlemode Fiber Optic Cable in custom configurations. It features an OS2 jacket and it offers the perfect solution for connecting patch panels and other network devices requiring LC or SC connectors.
For multimode fiber optic patch cables, you can consider our 3m 10 GB LC/SC Duplex 50/125 Multimode Fiber Patch Cable. It has a standard aqua blue 50/125 riser-rated jacket and is 10GB OM3 rated.
But maybe this is all old news to you, and you're comfortable enough handling the bits and pieces of your network's hardware that you're looking for individual connectors themselves. Cables.com offers fiber optic cable connectors for both LC and SC fiber optic patch cables at competitive prices. Here at Cables.com you can find our CORNING UniCam Pretium-Performance Connectors, ensuring maximum functionality for your fiber optic cords. We offer SC fiber optic cord connectors as well, and are confident that you'll find exactly what you're looking for. But if you're not sure where to start, check out our Quick Patch Finder for network cables, and don't hesitate to contact us in order to request custom fiber optic patch cable assemblies. Many of our cables are available in multi-packs, and there's always the option to search Cables.com for our bulk cable and wire deals.
Whatever your network needs might be, Cables.com is dedicated to providing you with the best cables for your home or business setup!
---