Cables - Shop Cat6 Ethernet Cables, Cat5e Ethernet Cable, Cat5 Ethernet Cable, Fiber Optic Cables
---
Cables For Sale - Fiber Optic Cables, Network Cables, Outdoor Cables, Bulk Ethernet Cables, Cat6 Cables, Cat5 Cables, Cat5e Cables, Crypto Cables.
Patch Cables and Patch Cords for Ethernet and Network Connection
A patch cord or patch cable (also sometimes called a patch lead) is an electrical or optical cable used for connecting (or patching in) one electronic or optical device to another
by Vikas Dayal • December 02, 2022
Cables.com, Cat5e / Cat6 Cables, Custom Cables, Custom Fiber Optic Cables, Data Center, Fiber Optic Cables, Network Patch Cables, Network Patch Cords, Patch Finder
---
Nobody likes having to sort out a mess of cables beneath their desk or behind their entertainment system. What do any of those cords even do? Regardless of your setup, you might just need a patch cable to get your network up and running. There are different kinds of patch cables, with different functions and different capabilities. Today we'll take a look at the variety of patch cords available here on Cables.com and figure out what the best cable is for you.
Patch Cables: What They Are
What even is a patch cable? Let's start with the basics. A patch cord or patch cable (also sometimes called a patch lead) is an electrical or optical cable used for connecting (or patching in) one electronic or optical device to another. There really is a broad variety of connections patch cords can facilitate. They might connect a switch to a computer, or to a router. A patch cable might act as an ethernet cable, though typically a patch cable or cord will be shorter than your standard ethernet cord. Patch cables are an essential part of LAN (or Local Area Network) setups, as they might connect a computer or laptop to a wall jack, and in a data center patch cords will link equipment on one rack or enclosure to equipment on another shelf, rack, or enclosure. Making sure you have the correct patch cable or patch cord is essential to maintaining the performance of your network.
Cables.com offers a variety of patch cables or patch cords available at competitive prices. If signal strength and speed are a priority, consider our Cat 6A AWG White Snagless Ethernet Network Patch Cable. Available in a variety of lengths and priced for bulk cable purchasing, these cables have a higher specification than Category 6 cables and are rated at a minimum of 250Mhz, but can also transmit at speeds of up to 500 Mhz until 165 feet.
Cables.com can also provide you with a Cat5E Ethernet Patch Cable with Snagless Boot. This cable is made of 24awg pure copper wire and 50 microngold plated connectors in lengths up to 25 feet. The snagless boot can provide strain relief for your patch cord connections.
What about fiber optic patch cables? If you're working with a singlemode fiber optic network, here on Cables.com you can find LC APC/LC APC Duplex Singlemode 9/25 Fiber Optic Patch Cable. Singlemode fiber optic cords can provide nearly unlimited bandwidth, though at a shorter distance, and a good patch cable will keep that connection going strong.
In addition to singlemode cables, you can find multimode fiber optic cords as well. Consider Cables.com's OM4 Plenum LC/LC Duplex 40 GB 50/125 Multimode Fiber Patch Cable. These cables feature high quality LC connectors on both ends and a plenum jacket approved by local fire codes for in wall installation.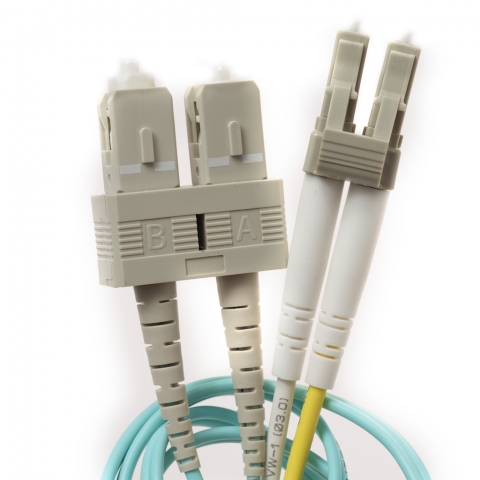 Purchasing Your Patch Cords at Cables.com
Cables.com is here to meet your patch cable needs. We offer our cables in a broad variety of lengths and colors, and if you have a particular need for your network setup we're on hand to help you find the right fit with our Custom Cables. If you're unsure of what it is you're looking for, check out our Quick Patch Fiber for some assistance. We also offer bulk cable order options. As always, don't hesitate to reach out to us at 800-372-3725 toll free or Contact Us using our web form.
Whatever your cables needs are, Cables.com is here to help!
SHOP NOW: 300 Feet Pink Plenum Rated Cat 5e Plenum-rated 350Mhz Network Patch Cable - Cat6 550Mhz Network Bootless Patch Cable - Category 5e Plenum-rated Network Patch Cable for in-ceiling installations
---