Cables - Shop Cat6 Ethernet Cables, Cat5e Ethernet Cable, Cat5 Ethernet Cable, Fiber Optic Cables
---
---
Outdoor Cables Made to Last
Outdoor Fiber Optic, Outdoor Network Patch Cables, and Outdoor Power and Extension Cables
Outdoor cables need to be sturdy and reliable in order to last.
by Vikas Dayal • August 25, 2023
Cat5e / Cat6 Cables, Fiber Optic Cables, Network Patch Cables, Power Cables, Power Cords
---
Outdoor cables need to be sturdy and reliable in order to last. A good outdoor cable should be able to take a lot of punishment from the elements, like rain and heat. Cables.com offers outdoor cords for all kinds of installations at affordable prices.
Whether you're looking to install network patch cables outdoors due to the nature of your data network setup or run power cables for an outdoor event like a music performance, it's essential to find the right outdoor cable for your needs. Cables.com is your one-stop shop for outdoor cords, and we carry weather-resistant network cables and power and extension cords guaranteed to meet your needs.
Outdoor Ethernet Cables
A good network patch cable for use outdoors needs to meet a few requirements: it should be rugged enough to resist extreme weather and interference from pets without compromising the strength or speed of your connection. Cables.com stocks Datacomm cables that can tick off all those boxes. You can find our Category 5e, Cat6, and Cat6A outdoor cables at competitive prices in a variety of configurations based on your needs, with the additional option of creating a custom cable order if necessary.
But let's start by taking a look at what you can purchase directly from our online catalog. Category 6 ethernet cables are considered today's standard for data network installations, and we can offer excellent outdoor cat6 shielded ethernet cables for burial. These cables are available from between 25 and 450 in length, and their quality-built HPDE jackets are superior to PVC, which makes them more likely to survive exposure to the elements for many years regardless of where they're installed. These outdoor ethernet cords are manufactured here in the US with RJ45 connectors and 550 Mhz rated copper wire. They're also animal and rodent resistant, so they should be safe from damage from any burrowing, gnawing pests like rodents.
Outdoor Power Cables
Whether you're operating your power tools for some overdue landscaping out in the front yard or putting in some work on that old boat on the dock, it's important to be using the right power cord. It's important to keep in mind that most store-bought extension cords are intended only for use inside the home, and that extensive exposure to the elements can contribute more wear and tear on your cables than they're able to handle. A proper outdoor extension cable is essential if you intend to get the most out of your devices outside - and for staying safe besides, reducing the odds of fire or electrocution that could result from a damaged cable. After all, water and electricity don't play well together!
Our outdoor-rated SJTW power cord is meant for running in your backyard or outside your office building. Connect your devices to your power source without any worry!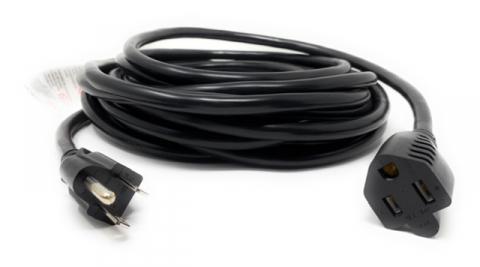 Outdoor Fiber Optic Cables
These Outdoor Rated Fiber Optic Cables (sometimes spelled "fibre optic," or referred to as "optical fiber") come in singlemode or multimode fiber optic types like our LC to LC OM3 Fiber Optic Cable for Direct Burial, and are amongst the complete line of fiber optic cable products that Cables.com currently offers. We currently offer these Outdoor Rated Fiber Optic Cables from 10 meters to 300 meters. Please reach out to us for custom cable sizes if you don't find exactly what you're looking for available here! We'd love to work with you.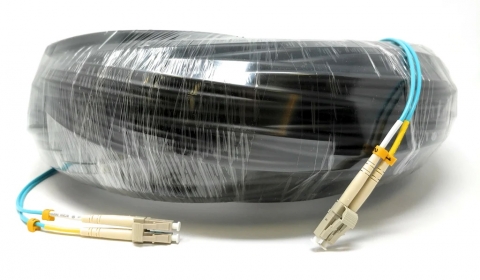 Any Questions?
Don't hesitate to hesitate to Contact Us or email us at sales@cables.com! Many of our cables can be ordered in custom colors, lengths, and configurations tailored to your specifications. We can also offer bulk pricing if you're looking to order a large amount of cables.
SHOP NOW: Outdoor Cat6A Ethernet Cables - Outdoor RG6 Coaxial Cables - Outdoor High-Performance Power and Extension Cords
---