Cables - Shop Cat6 Ethernet Cables, Cat5e Ethernet Cable, Cat5 Ethernet Cable, Fiber Optic Cables
---
---
How Structured Cabling Helps Healthcare Networks
Health care networks need increasing speed and capacity for networking and telecommunications. Learn how structured cabling addresses those needs.
by VIKAS DAYAL • February 03, 2020
Data Center, Cat5e / Cat6 Cables
---
When you're thinking of medical cables, you may be thinking of medical grade power cords. Here at Datacomm Cables, we know it is so much more than that.
Health care networks are experiencing unprecedented increases in data volume and demand for rapid transmission of information. Everything from diagnostic equipment to patient information systems to remote video consultation needs network connectivity; even hospital physical plants are adopting a network, collecting and monitoring data about HVAC systems and power use. Security systems, alarms, patient monitoring, diagnostics, food services, and wireless services for bedside access all place demands on healthcare networks. They all constantly receive, send, and store information. Additionally, voice communication, office applications, and operating rooms all have network needs, and healthcare networks must plan for a future of perpetual increases in data demand.
Structured Cabling Systems
Structured cabling systems provide complete network infrastructure for building or campus telecommunications. They use a "backbone" of cabling combined with standardized smaller elements, such as patch panels and cable connectors. This kind of cabling infrastructure provides reliability and the flexibility to manage changes and reconfigurations. Plus, it moves without disturbing the backbone cabling structure that connects floors within buildings and the buildings to each other. It also includes cabling that can transmit images, video, voice, and data to different connected devices and points of connection.
How These Systems Benefit the Healthcare Industry
Most healthcare organizations and facilities are aware of how structured cabling helps healthcare networks. This is because there is an accepted industry standard outlined in ANSI/TIA 1179—the standard for healthcare facility telecommunications infrastructure. This standard governs the design and installation of a cabling system that will provide consistency and reliability (a life-or-death need in healthcare networks). It also offers flexibility to accommodate future moves, growth, and innovation in healthcare environments over long periods.
Better Network Accommodations
As data demands grow, healthcare networks are looking at constantly increasing needs for network transmission speed (gigabytes per second). The same goes for capacity, or bandwidth—the volume of data that can flow through the network at any one given time. Cabling makes this all possible.
In the complex healthcare environment, this means the network must accommodate all of the various functions—clinical, administrative, and physical—throughout the building or the hospital campus. Information security and patient privacy requirements, fire safety, closed-circuit television networks, intercoms, nursing stations, and patient monitoring systems all come into play. Failure or downtime in some of these areas can threaten lives.
Reliable Structure
Networks like these use different kinds of cables, including copper and fiber, as well as different types of connections to handle all of them. The "structured" part of the description refers to a design that allows easy reconfiguration, where patches and ports provide "plug and play" functionality throughout the building or campus. The updated standards defined for structured networks in healthcare environments consider redundancy, security, and disaster recovery, as well as outlet density according to the use of the space.
Keep Things Connected
When setting up, expanding, or repurposing elements of a structured network, architects, engineers, designers, and IT professionals must consider using a mix of cables that comply with the international standard. This is to ensure safety, information security, and affordable cost. ANSI/TIA-1179 spells out recommendations for outlet density in a multitude of defined physical areas and functions of the healthcare arena. This includes ambulatory care, critical care, diagnostic care and treatment, emergency departments, and other general areas, such as exam rooms and academic functions. The standard includes requirements for grounding and installation.
Elements of structured cabling infrastructure will include:
Entrance facilities: the "entrance" is where the network's cabling infrastructure connects to the outside service provider and passes that connection on to the onsite cabling. Entrance components may include pathways, cables, connectors, circuit protectors, and network hardware. An entrance facility may be underground, buried in a tunnel, or aerial. The entrance facility also manages the transition from outside cabling to the kind of cable approved for use within the building, including the changeover to fire-rated cabling. Building codes regarding electrical wiring and connections may govern how professionals wire, protect, and connect the entrance facility and the rest of the building.
Backbone: the backbone cabling consists of a cabling network that distributes connectivity vertically and horizontally throughout the building and, if applicable, to other buildings using the system. The backbone provides connections between equipment rooms, closets, and the entrance facility, and. It includes cabling pathways (e.g. conduit, shafts, floor penetrations), the cables themselves, cross-connections, terminations, and patches or "jumpers." This makes backbone-to-backbone cross-connections within one building (intrabuilding) and connections between buildings (interbuilding) as well as hardware and equipment for grounding, fire protection, and cable support. Architects, engineers, electricians, designers, and builders should consider potential sources of electromagnetic interference when laying out pathways and selecting cables.
Telecommunications room: sometimes called a telecommunications enclosure, this area contains the terminations of backbone cables and connections including jumpers or patch cords. It provides a controlled environment for telecommunications equipment and connections to a specified area of the building.
Work areas: hospitals and other health care facilities have a great variety of work areas, often related to the type of care or clinical practice provided. The standard specifies cabling density for a variety of these areas, including:

Patient Services
Emergency
Ambulatory Care
Surgery
Outpatient and Procedure Rooms
Diagnostics
Women's Health
Facilities and Operations
In addition, there are quite a few points to consider when it comes to medical connectors:
There is more than meets the eye when choosing a medical connector than fitting the technical specification requirements. When you are choosing the correct medical connector, it can make the biggest difference. The right connector and cable can increase device durability, user-friendliness, safety, and efficiency.


The end-user implication and uses of medical devices from medical professionals develop performance expectations and preferences that can influence vital insights for the product developers.
The structured cabling plan should also consider office and administrative uses. Additionally, if the hospital partners with an academic institution, it should consider research areas and academic administration.
Cable Selection
When selecting cables to provide network connectivity for all these complex and various work areas and uses, choose cables that exceed current standards in speed and bandwidth. The standard specifies capacity and recommended lengths for ethernet and fiber cables; various options exist according to desired performance and cost. Diameter, standard connectors, port density, and crowding in pathways are all factors that affect cable choice for a specific environment and application. Further, health care facilities can compare costs, options and purchase cables, patch panels, switches, adapters, and other equipment needed. This way, they can create and upgrade structured cabling for their healthcare network online.
When creating or upgrading networks for healthcare applications, think about how structured cabling helps healthcare networks with reliability, redundancy, flexibility, and future capacity. Structured cabling designed and installed in accordance with ANSI/TIA-1179 will provide the speed and bandwidth necessary and facilitate innovation, expansion, redeployment, and relocation of healthcare networks. Plus, it will do so without disrupting (causing less disruption) of the backbone of the network system.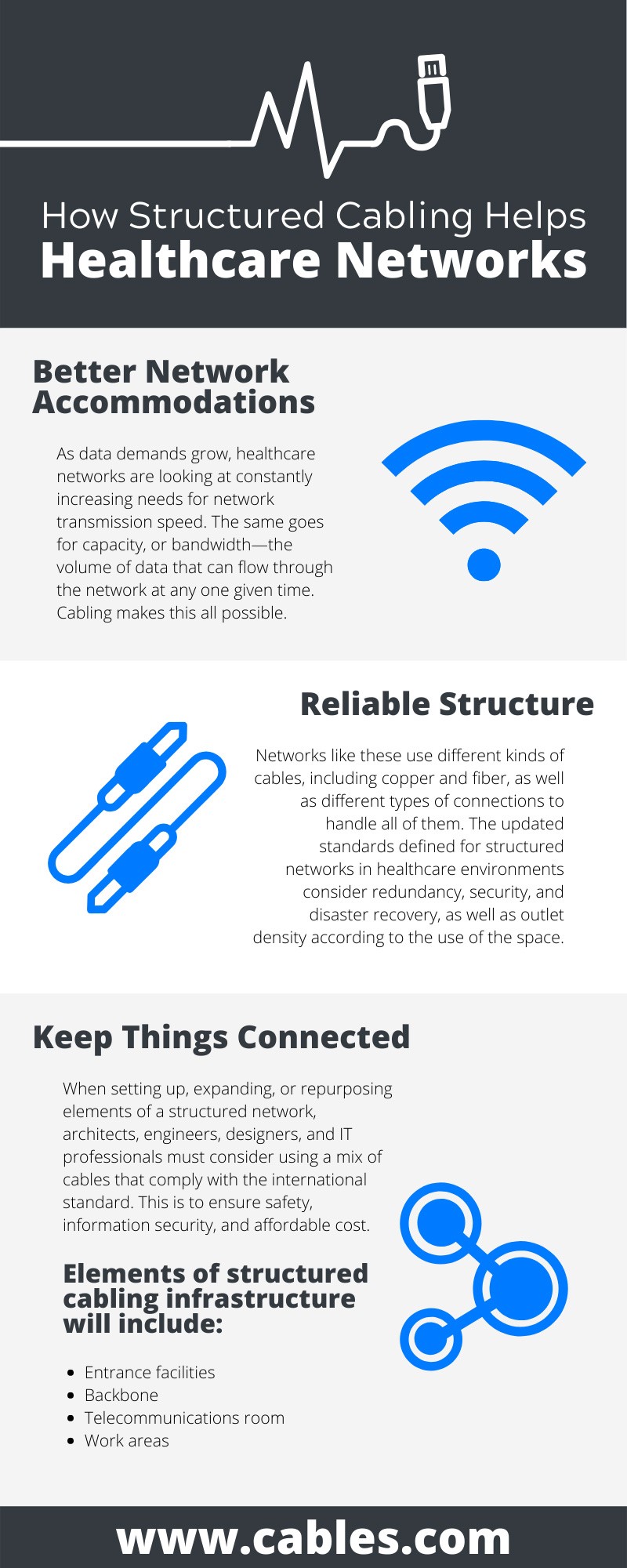 ---