Cables - Shop Cat6 Ethernet Cables, Cat5e Ethernet Cable, Cat5 Ethernet Cable, Fiber Optic Cables
---
---
Water Resistant Cables
watertight and water resistant power cables and cords
Most extension cables and network patch cords are built for indoor use only.
by Vikas Dayal • June 06, 2023
Cat5e / Cat6 Cables, Fiber Optic Cables, Network Patch Cables, Network Patch Cords
---
Is it safe to run your cables outside? Most extension cables and network patch cords are built for indoor use only. Attempting to use them outdoors can result to damaged cords or devices in the best case, and personal injury in the worst. Make sure you're purchasing watertight and weather resistant cables if you plan to install them outdoors.
Outdoor Power Cables
While leaving your extension cords unplugged out in the rain might not ruin them, the added wear and tear will render your extension cord unusable in only a short time. There's also the risk of fire or electrocution if a wet cable is handled before the plug is allowed to dry. Whether you're powering your hobby or your livelihood, it's important to invest in safe, reliable cables like the ones you can find on Cables.com that are intended particularly for outdoor use.
An outdoor power cord like this L6-20 Watertight Extension Cable is rated for 20 amps and 250 volts.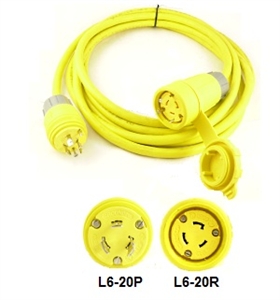 Our watertight power cables are manufactured with sturdy bright yellow jackets that are easy to spot. They're suitable for both indoor and outdoor use and come in a variety of lengths and configurations, which means you'll probably easily find the cable you need for your job here on Cables.com! This includes outdoor rated SJTW extension cables, which feature a heavy duty 14 awg 15 amp SJTW jacket and molded 5-15 plug and receptacle.
Weather Resistant Outdoor Ethernet Cables
If you're looking to install a home or office data network, there's a good chance you might need to run cables outdoors. Our Outdoor Cat6 ethernet cables are shielded and built to withstand punishment from the elements. They're suitable for direct burial as needed. Due to their high quality, sturdy PVC jackets, you don't have to worry about water or UV damage to your cables.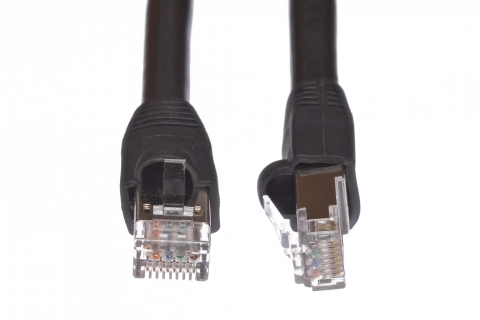 Outdoor Fiber Optic Cables
Cables.com stocks a wide variety of cables suitable for outdoor use, and that includes our LC to LC OS2 Single mode fiber optic cables.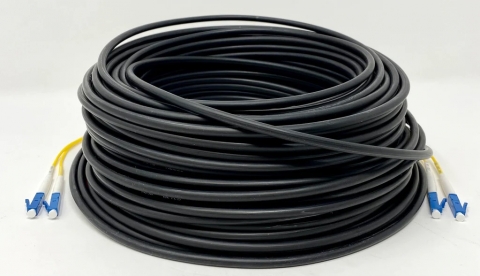 These outdoor-rated fiber optic cords are manufactured to the same high standards as our regular optical fiber cables, which means you can rely on them to operate at high speeds regardless of the weather. They feature high quality duplex LC connectors on both ends, and are strong and excellent for any project. If you'd rather purchase an outdoor multi mode fiber optic cable instead, we stock those as well!
Still Looking?
We want Cables.com to be your one-stop shop for all your cables needs. In order to serve you better, we offer the option of purchasing our cables conveniently in bulk! You'll find cables like our Cat5e outdoor ethernet cords available for bulk purchase, so you never have to worry about running out of the cable you need for your installation. Whether you need an outdoor power or extension cable, outdoor network patch cables, or an outdoor fiber optic cable, we have you covered. And if you still haven't located exactly what you're looking for, no need to worry! We'd love to work with you one-on-one to manufacture a custom cable built to your specifications. You'll be able to choose the length, color, and configuration of your cable to be sure it's exactly what you require.
Feel free to contact us through our webform or by email at sales@cables.com! We look forward to discussing your project.
SHOP NOW: Cat6A Outdoor Shielded Cables - Outdoor Power Cords - OM3 Direct Burial Fiber Optic Cable
---