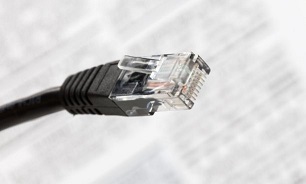 One of those slide-in-from-the-side messages saying "no connection" appears on your screen, but you know your machine is connected to a router, modem, or switch with an Ethernet cable. Although there are several possible explanations, lost connectivity on a wired connection is one of the signs that an Ethernet cable isn't working right. Before you assume that the network is down, check to see if a cable might be the problem.
It Is Only Happening to You
Check with colleagues connecting through the same network. If yours is the only device experiencing a slow or interrupted internet connection, the problem may lie with the cable that connects your machine to the Ethernet adapter. Unplug it and plug it back in—if the light doesn't come on, there might be a problem with the adapter, the network switch, router, or modem—or it may simply be the cable you are using. Switch cables to see if you restore your connection. If changing the cable solves the problem, that's a pretty sure sign that the old Ethernet cable isn't working right.
Wiggling the Cable Restores the Connection
The connectors on the end of Ethernet cables that plug into ports and terminals can break. The little plastic arm that holds the cable in the port can break off. When that happens, the cable is left hanging in the port and can fall right out. The pins at the end of the connector can get worn or bent with hard use as well. It isn't a great idea to disturb cables by wiggling them a lot—but wiggling can help to diagnose a problem. If gently wiggling the connector in the port restores the connection, the problem is with the connector, not the cable itself.
On the other hand, bending or coiling a cable can cause wear on or even break the copper wires inside. Sometimes just pulling it gently to uncoil or straighten it can help, but it can also cause additional damage. A slow or on-and-off connection means the cable is likely nearing the end of its useful life, and it is time to replace it.
Fortunately, new cat5e cable or even faster cat6 cable is relatively inexpensive. You can buy packs of them to switch in when a cable has become too worn to provide consistent connectivity and speed.