---
Outdoor Extension Cords at Cables.com
outdoor extension cords and cables
An extension cord that isn't rated specifically for outdoor use can hurt you or damage your electronic devices.
by Vikas Dayal • October 26, 2023
---
It's easy to assume that one extension cable is just as good as another, but it's important to think about where your cable will be used and what kind of stress it might face. An extension cord that isn't rated specifically for outdoor use can hurt you or damage your electronic devices. Let's take a look at what makes a good extension cable outdoor-rated, and what Cables.com has to offer.
What exactly is an extension cord? You might think it's the same thing as a power cable, but an extension cord is intended to extend an existing power cord so it can reach an outlet. This is something to keep in mind when you're looking to operate any electronic devices outdoors, as you may not have many (or any) electrical outlets outside your house. This is where it becomes important to make sure that your extension cable is intended specifically for outdoor use, as not all extension cords are meant to get wet or face extreme heat from the sun.
Buying Outdoor Extension Cables
A reliable outdoor extension cord will be resistant to the elements, as well as any disturbances that might be caused by pests or weather events. Cables.com stocks a variety of high quality extension cables meant to withstand exposure to rain or shine. This means cables that are manufactured from quality wire and strong, sturdy jacket material that won't fray or break down easily.
A good example of this is our SJTW Outdoor-rated extension cable. SJTW cables are considered "hard service" cables with weather-resistant thermoplastic jackets. That makes this cord ideal for running in your backyard, or outside of an office building. This heavy duty 14 awg cable features a 15 amp jacket with a molded 5-15 plug and receptacle. It's UL-listed, which means it's passed rigorous testing by Underwriter Laboratories and meets nationally recognized standards of sustainability and safety.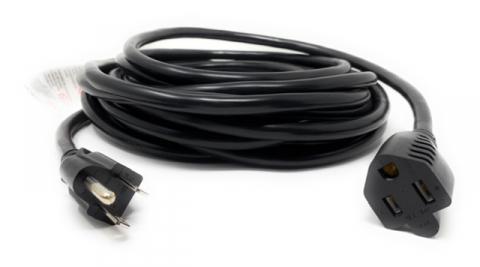 Our 16 awg 3 conductor indoor/outdoor extension cable is suitable for use both inside and outside of your home or facility, with a NEMA 5-15P connector on one end and a NEMA 5-15R connector on the other. This cable is rated for 250 volts and is available for an excellent price.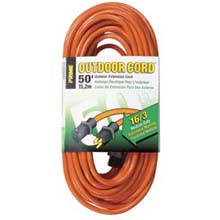 Our 14/3 Outdoor Extension Cord comes with a lifetime warranty and is constructed with SJTW wire. We also offer an SJTOW 14/3 Contractor Extension Cable with indicator light, a Prime Bulldog Tough extension cord with a PRIMELIGHT neon lamp embedded in the female connector intended to let you know when the power is connected.
Shopping Cables.com
Cables.com wants to be your one-stop shop for your outdoor cable needs. Whatever configuration cable you require, you always have the option of building your own Custom Cable and of buying your cable or wire in bulk. We're confident that you'll find what you're looking for in our catalog, but don't hesitate to reach out to us through our web form or send us an email at sales@cables.com to discuss the option of manufacturing a custom cable for your particular project. We look forward to working with you!
SHOP NOW: All Outdoor Cables - Bulk Cable/Wire - Custom Cables
---