Cables - Shop Cat6 Ethernet Cables, Cat5e Ethernet Cable, Cat5 Ethernet Cable, Fiber Optic Cables
---
Cables For Sale - Fiber Optic Cables, Network Cables, Outdoor Cables, Bulk Ethernet Cables, Cat6 Cables, Cat5 Cables, Cat5e Cables, Crypto Cables.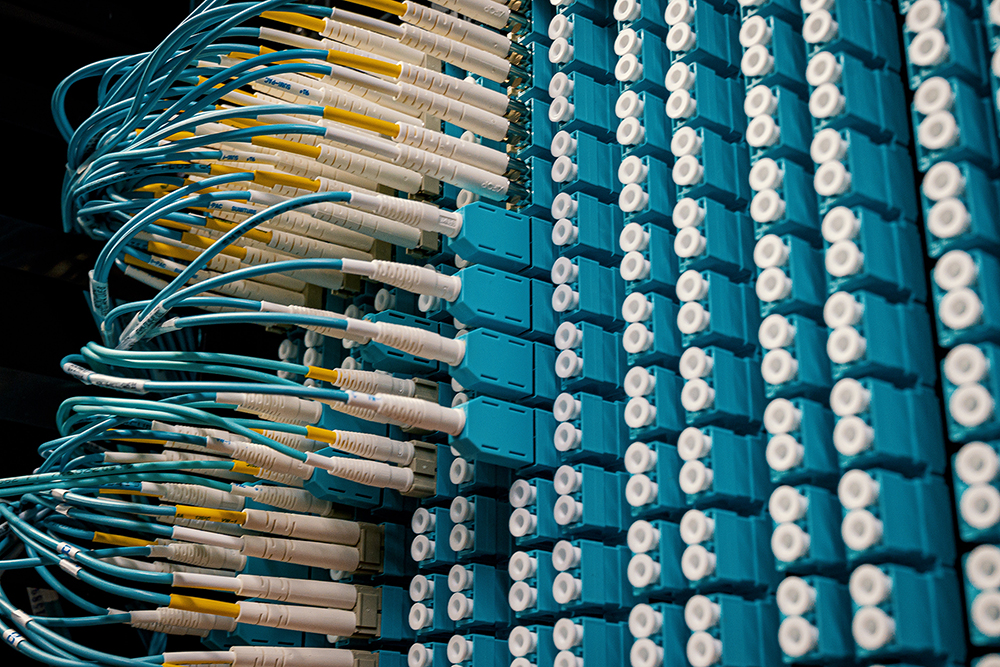 OM4 Fiber Patch Cables for 40 to 100G Speeds!
Multimode OM4 fiber optic cables offer higher bandwidths up to 40 or even 100G, positioning them to remain industry-standard for quite some time.
by Vikas Dayal • October 01, 2022
---
Cables.com stocks OM4 Multimode Fiber Optic Cables in several standard lengths and configurations. While LC to LC connectors remain the most popular, we also carry LC to SC as well as OM4 fiber patch cables available in riser-rated, plenum or armored jackets. The industry-standard for OM4 fiber wiring is an aqua colored jacket, but at Cables.com, you can also order black, blue, red or green OM4 fiber cables.
The applications and demand for both residential and business Internet connectivity continue to multiply. In this day and age, digital signals often travel through several modes of transmission in route to their destinations. These include wireless and cellular signals, ethernet connections, and of course, fiber optic cables. Fiber cables come in two basic types: single mode and multimode, both of which fulfill important roles in modern, high-speed data networking.
While single mode cables remain unsurpassed in terms of transmission speed, multimode fiber cables become necessary when greater bandwidth becomes more important. With fiber cores made up of several strands of glass fiber instead of just one, multimode fiber cables gain the capacity to transmit multiple singles simultaneously. In this way, multimode fiber optic cables are indispensable to many applications due to their greater bandwidth.
Within the multimode fiber category (OM1 through OM5 types of cables) OM3 and OM4 multimode cables represent a dominant portion of both manufacturing volume and installations due to their performance and relative affordability. For many home and business applications, OM3s and OM4s easily handle bandwidth requirements. Businesses and contractors planning a new commercial installation should strongly consider using OM4 fiber optic cables, because, as we've said before, it's a great way to "future-proof" the business. The cost difference as compared to OM3s is minimal, and the benefits of OM4s include almost doubling the cable's modal bandwidth (expressed as Mhz-km).
But many, if not most, OM4 fiber optic cables are nowhere close to a kilometer in length. In fact, a large portion of OM4s are just a few feet or meters long and are known as multimode fiber patch cables. Because OM4 fiber patch cables use an internal design known as tight-buffered construction, the finished cable is just a few millimeters in diameter making it ideal for use indoors in server rooms and networking panels. When OM4 cables are manufactured in these shorter lengths, they can also offer higher bandwidths up to 40 or even 100G!
When you come to our website, click on the Quick Patch Finder, to select the OM4 or other fiber patch cable you need. The OM4 fiber optic cables we stock are about 2 mm in diameter. They have glass fiber cores just 50 microns (850 nanometers) wide. Our most popular LC to LC, OM4 Duplex Aqua Jacket Fiber Optic Cable is riser-rated and laser optimized. Lengths of .5 or 1 meter currently start at just $9.50 per cable. Costs for plenum-rated and armored cables go up from there. However, there's no upcharge for for LC to SC configurations. And don't forget about the opportunity to color code your OM4 cables. Just check out our various jacket color selections.
Need a different configuration, custom lengths or another type of custom cable? To build exactly the OM4 fiber cable to meet your needs, visit our custom cable builder tool. Have questions or need more information before ordering. Give us a call. Our customer service agents have the industry expertise to answer all your questions, and they can even help you place your order if you prefer.
Multimode fiber optic cables with their high-traffic, high-bandwidth capabilities have become indispensable to many data transmission applications, and OM4 fiber optic cables are positioned to remain industry standard for quite some time.
Shop OM4 Fiber Optic Cables Now!
SHOP CABLES NOW:
CAT5 CABLES - CAT5E CABLES - CAT6 CABLES - CAT6A CABLES - NETWORKING CABLES - FIBER OPTIC CABLES - OUTDOOR CABLES
---