Cables - Shop Cat6 Ethernet Cables, Cat5e Ethernet Cable, Cat5 Ethernet Cable, Fiber Optic Cables
---
---
Is Fiber Optic Cable Better Than Ethernet?
How do you decide between an ethernet connection or fiber optic connection?
Both ethernet and fiber optic connections have their pros and cons.Whether you're looking for stability vs speed, you have a lot to consider when you're looking to purchase cords or cables for your network connection.
by Vikas Dayal • May 02, 2023
Cat5e / Cat6 Cables, Datacomm Cables, Fiber Optic Cables, Network Patch Cables, Patch Finder
---
While both ethernet and fiber optic connections have their pros and cons, there are a number of factors it's important to consider before choosing which to use for your data center. The best network patch cable for you will depend on the size of the operation, as well as what you want from it. Whether you're looking for stability vs speed, you have a lot to consider when you're looking to purchase cords or cables for your network connection.
Bigger isn't always better, and while you're likely looking for the fastest connection you can afford for your home or office network connection, you may find yourself facing constraints on expense and space. Cables.com has the cables you need no matter what you expect from your wireless connection.
Why Choose Ethernet?
Category 6 cables are considered the standard cable of choice when you're looking to set up an ethernet network. This applies to both home or office set ups, whether you're looking to transmit data pertaining to business deals halfway around the world, or just playing your favorite MMORPG.
Cables.com's Cat6 and Cat6A standard ethernet cables offer up to twice the performance speeds of Category5e cables, and are gigabit rated. Our Datacomm cables are available in a variety of configurations, and they're proudly manufactured in the USA. You can also rely on them to work with POE (Power Over Ethernet) Devices without any need for further special cabling.
So what are some reasons you might choose Cat6 network patch cables over a fiber optic network? An ethernet cable is a good way to obtain a reliable and secure connection between your office or home network devices and the internet. When you're shopping at Cables.com, you have the option of buying Bootless Cat6 Patch Cables that can fit snugly in all receptacles for all applications, including high density network switches. Our Category 6 cables are rated for up to 550Mhz, fast enough for gigabit applications, and are made up of 4 pairs of 24 AWG High Quality 100% bare copper wire.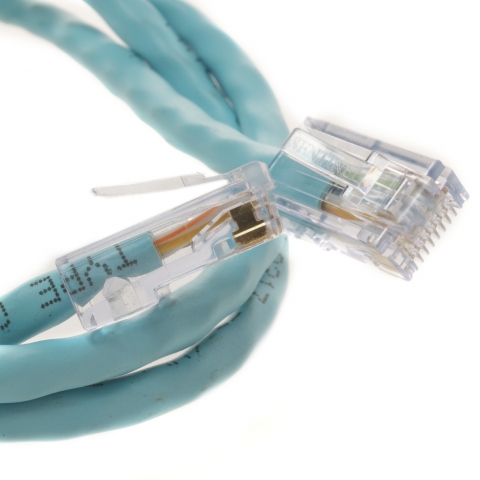 If you're not as worried about space constraints, consider Cat6 Patch Cables with flexible Snagless Boots, which offer the same connection speeds as the bootless versions while allowing for some movement in areas facing more traffic.
Our ethernet cables can be purchased in a shielded or unshielded configurations that will impact how they operate near power cables or in busy environments. A shielded connection will ensure that your connection is less likely to be affected by EMI, or electromagnetic interference. That aside, the important thing to remember is that an ethernet connection simply won't allow for data transmission that's as fast as fiber optic networks. What you get from an ethernet cable is ease and affordability as opposed to speed. This means they're the more economical option, as they're less expensive and less difficult to install than a fiber optic connection.
Why Choose Fiber Optic?
Fiber optic networks are on the cutting edge today. You can expect fiber optic internet to run much more quickly than an ethernet network - under ideal conditions, more than 100x faster. That said, you pay for what you get - installing a fiber network is likely to be significantly more costly than ethernet. Depending on the size and nature of your operation, you might fare suitably without it.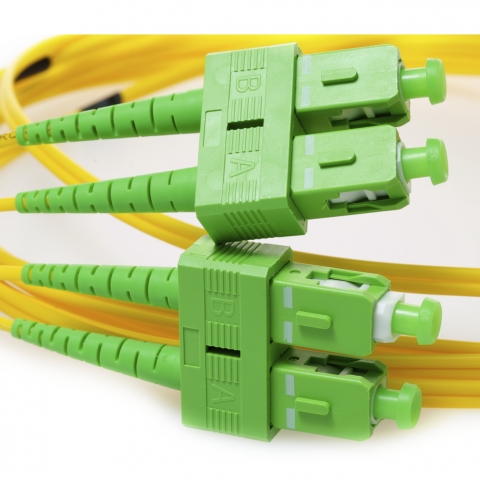 Fiber Optic Cables come in Single Mode and Multi Mode Patch cables, all of which contain a fine glass cord inside a PVC or riser-rated jacket. Which should you choose? That depends, again, on the needs of your particular data network. The main draw of single mode fiber optic connections is near unlimited bandwidth, and of course, a lower cost. It's important to note that multimode optical fiber is better for transmission over shorter distances, and less expensive than single mode fiber besides.
How Will You Decide?
If you still aren't sure which cable is right for you, Cables.com has you covered. Our Quick Patch Finder can help you match a cable to your particular need. And if you've still got questions after that, feel free to Contact Us via our webform or by email at sales@cables.com.
SHOP NOW: Category 6A Network Patch Cables - OS2 Single Mode Patch Cables - OM4 Multi Mode Fiber Optic Cables
---