Cables - Shop Cat6 Ethernet Cables, Cat5e Ethernet Cable, Cat5 Ethernet Cable, Fiber Optic Cables
---
Cables For Sale - Fiber Optic Cables, Network Cables, Outdoor Cables, Bulk Ethernet Cables, Cat6 Cables, Cat5 Cables, Cat5e Cables, Crypto Cables.
HDMI and DisplayPort cables carry digitized video signals between devices, but they're not identical. Learn the difference between HDMI and DisplayPort.
by VIKAS DAYAL • April 24, 2020
Cables.com, Audio/Video Cables, A/V Cables, HDMI Cables
---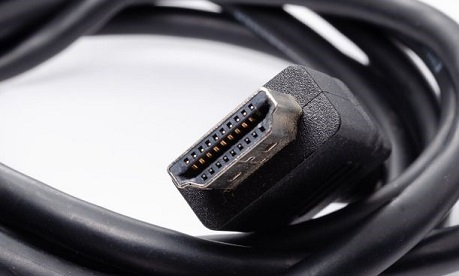 With every new device comes the question of cables—which are best to connect one device to another? As displays become more sophisticated with increasingly higher definition, users have more choices for what cables to use to connect devices that receive video and audio signals to the computers, cable boxes, and game consoles that send them. If you have a new video display device in your life, you should learn the basic difference between HDMI and DisplayPort cables.
HDMI Cables
HDMI stands for "high-definition multimedia interface." This kind of cable came along in 2003. It conforms to a standard developed and managed by the HDMI Forum, an organization of around 80 electronics companies. In 2002, six major electronics manufacturers developed the HDMI standard, and one of them—Silicon Image—formed HDMI Licensing, LLC. All members of the HDMI Forum have to pay a royalty to use HDMI in their cables and other products. They then pass the cost along to consumers.
HDMI cables carry high-definition video and audio signals from their source (a cable box or DVD or Blu-ray player) to a high-definition TV or computer monitor. There are different types of HDMI cables: some high-speed HDMI cables also act as Ethernet cables, and some do not. The newest breed of HDMI cable can even support ultra-high-definition TVs.
DisplayPort Cables
These cables were made primarily to connect monitors to computers. They didn't initially carry audio, but newer versions do. They're capable of sending signals to multiple video display units via a daisy chain setup from one origination port. The standards for DisplayPort cables are managed by the Video Electronics Standards Association (VESA), which does not charge a royalty. Gamers and people who need multiple computer monitors use DP cables to provide "tear-free" high-definition displays. Ports for DP cables appear on some kinds of consumer electronics, but these cables are more commonly used to connect monitors to game consoles or to string together multiple monitors for a single computer.
If you just purchased a new HDTV, then an HDMI cable is the obvious choice. For gamers or people who need to use multiple monitors connected to a single source, a DP cable may be a better choice. Cables.com can help you understand the difference between HDMI and DisplayPort cables and choose the right kind of cabling for your devices.
---