Cables - Shop Cat6 Ethernet Cables, Cat5e Ethernet Cable, Cat5 Ethernet Cable, Fiber Optic Cables
---
---
Differences Between Outdoor and Indoor Cat6 Network Cables
by VIKAS DAYAL • May 01, 2020
Network Patch Cables, Cat5e / Cat6 Cables, Cables.com, Network Patch Cords
---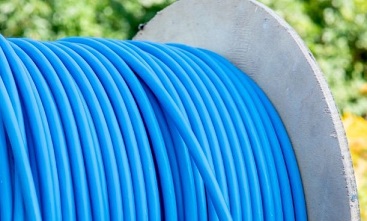 Enjoying the speed of a wired network gets a bit complicated when users work in several buildings of an office campus or stay in multiple cabins at a family vacation compound. Keeping everything wired means running cable outside and possibly underground. The current standard for speed in Ethernet cables is category 6, or cat6. The differences between indoor and outdoor cat6 network cable are important, as are the differences between regular outdoor cat6 and direct bury cat6 cable.
Indoor Cat6
Ethernet cable has improved in speed and/or capacity with each subsequent generation. Cat6 cable is the current standard network cable for speed and bandwidth. Cat6 cable can carry a 10G signal at full strength up to 164 feet and carries on at 1G for the rest of the standard 328 feet (100 meters). It is made of the usual twisted pairs of copper cable and may come in shielded or unshielded varieties. Unless there are sources of electromagnetic interference (EMI) close to the cable (large machinery, multiple appliances, high-tension wires, etc.), regular unshielded cat6 should work fine. Never, however, use indoor cat6 cable outdoors. Although the PVC jacket commonly used for indoor cables provides flexibility, it becomes brittle when exposed to sunlight and cannot stand up to the moisture and temperature extremes of an outdoor environment.
Outdoor Cat6
There are actually two versions of outdoor cat6 cable: regular and direct bury cable. Both have jackets made to better withstand sunlight, moisture, and temperature extremes, but don't bury regular outdoor cable unless it is placed within conduit, such as PVC pipe. Outdoor cables also attract lightning strikes and need surge protectors. Outdoor cat6 cables have a LLDPE Outer Jacket, and many use Water-block Tape to further seal the inside of the cable from water. They have a double layer jacket to provide waterproofing and resistance to deterioration caused by sunlight. Some outdoor cables use an additional layer of gel surrounding the wires inside to provide further protection against moisture.
The primary differences between indoor and outdoor cat6 cables are obvious in their names. However when selecting outdoor cable, consider how far the cable must run and whether making the wired connection to another building requires burying the cable. For buried installations, direct bury cables will withstand moisture and even wildlife best.
---