Cables - Shop Cat6 Ethernet Cables, Cat5e Ethernet Cable, Cat5 Ethernet Cable, Fiber Optic Cables
---
Cables For Sale - Fiber Optic Cables, Network Cables, Outdoor Cables, Bulk Ethernet Cables, Cat6 Cables, Cat5 Cables, Cat5e Cables, Crypto Cables.
Your Data Center Cable Shopping List
Cables and cords for data center operations
by Vikas Dayal • January 06, 2023
Cat5e / Cat6 Cables, Custom Cables, Custom Fiber Optic Cables, Data Center, Datacomm Cables, Fiber Optic Cables, Network Patch Cables, Power Cables, Power Cords
---
Even the professionals need to buy their cables and equipment somewhere - so why not Cables.com? Cables.com stocks gear and tools for assembling data centers, from ethernet cables built for use in tight spaces to floor tile pullers. Take a look at some of our catalog offerings.
Cables and Cords for Your Data Center
The cables and cords you choose for your data center will determine how well it runs, so it's important to source them from reliable sellers like Cables.com. Cables.com stocks the Datacomm cables you can rely on for your network. Let's start with the basics: your power cords. You'll need a sturdy connection between your server and your PDU, so take a look at our C14 to C15 PDU to Server 15 Amp Power Cord. The equipment end of this power cable features a thick-insulated IEC320 C15 female connector, while the supply end is fitted with a securely-sleeved IEC320 C14 male plug.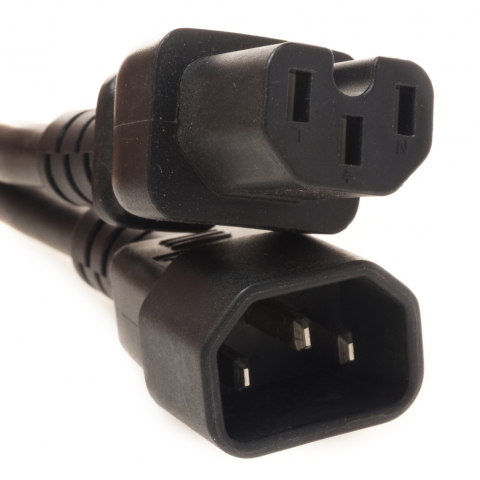 If it's a computer in a data cabinet you need to connect to your PDU, Cables.com can offer a 15 Amp C13 to C14 power cord available in custom colors like this vibrant blue, which will be easy to distinguish from other cables in a high-density installation. You can purchase this cable in 10amp/18awg, 13amp/16awg, and 15amp/14awg jackets.
Security is an important factor in maintaining a solid, stable connection, so you might want to invest in a NEMA 5-15p to IEC C13 10 amp locking power cord. This cable will allow you to snuggly secure your connection from a PC to 5-15 wall outlet or power strip, and the visible bright red lock will let you know that you don't have to worry about any accidental disconnects!
Depending on the density of your network, you should consider purchasing a Shielded Cat5e STP 350 Mhz Ethernet Cable with a snagless boot. While a bootless connection would be a better choice for dense server racks, this Category5e ethernet cable is shielded for protection in noisy data environments, which makes it resistant to EMI. Datacomm offers a lifetime warranty on this ethernet cord, so you can just plug it in and forget about it!
Are you reliant on a fiber optic data network? Cables.com offers both singlemode and multimode fiber optic cables. Our Single Mode Fiber Optic LC to LC OS2 9/125 Duplex cable with flexible boots makes this slim-diameter fiber optic cord a great choice for crowded racks in data centers where space is at a premium, and its flexible boots allow for a comfortable fit capable of bending up to 90 degrees at each end.
For Multimode Fiber Optic Cables, Cables.com's LC to LC OM4 Duplex Fiber Optic Cable is available in a standard aqua blue 50/125 riser-rated jacket, but you can also select a custom-colored jacket if you'd prefer. This particular cable is 50 micron 850nm laser optimized, with high quality duplex LC connectors on each end. It comes in a variety of lengths and configurations, and if you can't quite find the one you're looking for, don't forget that Cables.com offers custom cable deals as well!
If you need to move floor panels in order to access your cable connections, we also sell a verti-lifter floor tile pulling tool with double 5 cups. It's lightweight and easy to use, and is available in lengths of 37, 33, and 27 inches. Cables.com's selection of testers and tools will make it easier for you to assess the strength of your connection.
Cables.com is dedicated to providing you with everything you could need to keep your data network up and running at optimum capacity. If you have any further questions about our equipment or would like to speak to a customer service representative, contact us for information on custom cables and bulk pricing!
---