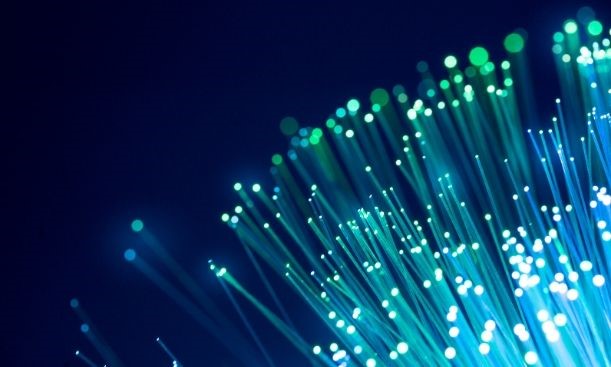 Fiber-optic cables enable fast transmission of enormous amounts of data. We've already looked at how these cables work—here, we offer a quick look at the basic components of fiber-optic cable, from the inside out.
The Basic Components of Fiber-Optic Cables
Fiber-optic cables have three—sometimes four—layers: the core, the cladding, sometimes another layer of strengthening fibers or another layer of glass, and the coating. Here's how each layer enables data-carrying photons to travel as waves along the cable.
Core
The core of a fiber-optic cable is a very thin, cylindrical filament of extremely pure glass (or sometimes plastic) about the diameter of a human hair. Manufacturers add substances called "dopants" to the silicon dioxide of the glass to alter its refractive index. The refractive index is the measure of how a ray of light bends when it passes from one medium to another. The speed at which light travels isn't constant like it is in the vacuum of space—it changes depending on what medium the light travels through. Light that enters water or glass from the air slows down and bends at a different angle than when it was traveling through the air. Fibers with different refractive indexes cause the light to travel at different angles and, therefore, at different speeds.
Cladding
The cladding covers the core of the fiber, preventing light from leaking out of the fiber as it bounces along the walls of the glass. The cladding has a different refractive index than the core, which keeps the light from passing through. Instead, the light bends back toward the core and keeps traveling along the cable.
Strengthening fibers or buffer
This layer of extra protection shields the fragile glass fiber from damage during installation. This layer might be made of Kevlar, gel-filled tubes or sleeves, or wire sleeves. Occasionally, a layer of dark glass—or light-absorbing glass—will be placed between these protective fibers to prevent light that might leak from one strand of fiber from penetrating another strand.
Coating
This is the exterior layer, which has nothing to do with actually transmitting the light. Sometimes called the jacket, this layer is there purely to protect the cable from outside factors such as moisture or environmental factors such as construction equipment, fishing gear, and even sharks, which have been known to attack undersea cables. The coating comes in different colors that may indicate different generations or dimensions of cable.
These are the basic components of fiber-optic cable. Single-mode fiber-optic cable is thinner and can carry data longer distances than multi-mode cable, which has a larger diameter and can carry much more data—just not as far. Because light can travel at different wavelengths, data can ride on several different colors of light through a single cable, enabling transfer of far more data than with traditional twisted-pair copper cables.
Whichever kind of cable you need for your network, whether it's traditional copper Ethernet cable or fiber-optic cable, you can buy cable online at Cables.com to meet your needs.