Wireless WiFi, also known as Wi-Fi (Wireless Fidelity, IEEE 802.11), has become an enormous benefit in the world of network connectivity. Perhaps the underlying reason is convenience combined with a dash of necessity. The fact is, there are times when it's nigh to impossible to run network cables in an affordable manner. That's where WiFi comes into play.

According to Statistica, of the 126 Million households that populated the United States in 2016, approximately 76 percent of them had access to the internet. Within this group there are 312 million Internet users and 152,069 WiFi locations. (http://bit.ly/2WsJLN9).

As you can see, there are a lot of WiFi hotspots all across the United States. It's important that you install your router properly.

How to Connect a WiFi Router
Connecting a typical wireless WiFi router or access point is not difficult. Before you can do this, there must be a modem in place. There are basically two types of modems that homes and SMB's (Small to Midsize Businesses) commonly use. One is designed to work from a traditional phone line using DSL (Digital Subscriber Link) and the other from a cable television connection. Assuming that you have a modem, let's proceed.

There are 10 basic steps that you must adhere to when you install a WiFi wireless router, which is sometimes called a wireless access point:

To connect your WiFi router to the modem (see illustration), purchase a patch cord(s) certified as Category 5e or 6 compliant.
The shorter the better, but it must be long enough with some slack to reach both devices without placing stress on either modular plug.
Unplug your computer from the modem as well as the power connection, in that order.
Plug one end of the new patch cord into the modular jack on the back of the modem, sometimes labeled "Ethernet."
Plug the other end into the the back of the modem, usually labeled "Internet."
A secondary modem can be connected to the main router in order to provide additional coverage. There are two methods used to make this happen and we will cover them in a subsequent blog post.
Because a modern WiFi router has several Ethernet ports, you can now plug your desktop computer into one of them.
Plug the power adapter that comes with your new WiFi router into a nearby power outlet and insert the low-voltage plug into the back of the router.
Check to make sure the power LED (Light Emitting Diode) is on. As the router boots up you will see additional lights come on.
Restore power to the modem and check to make sure the power LED is on.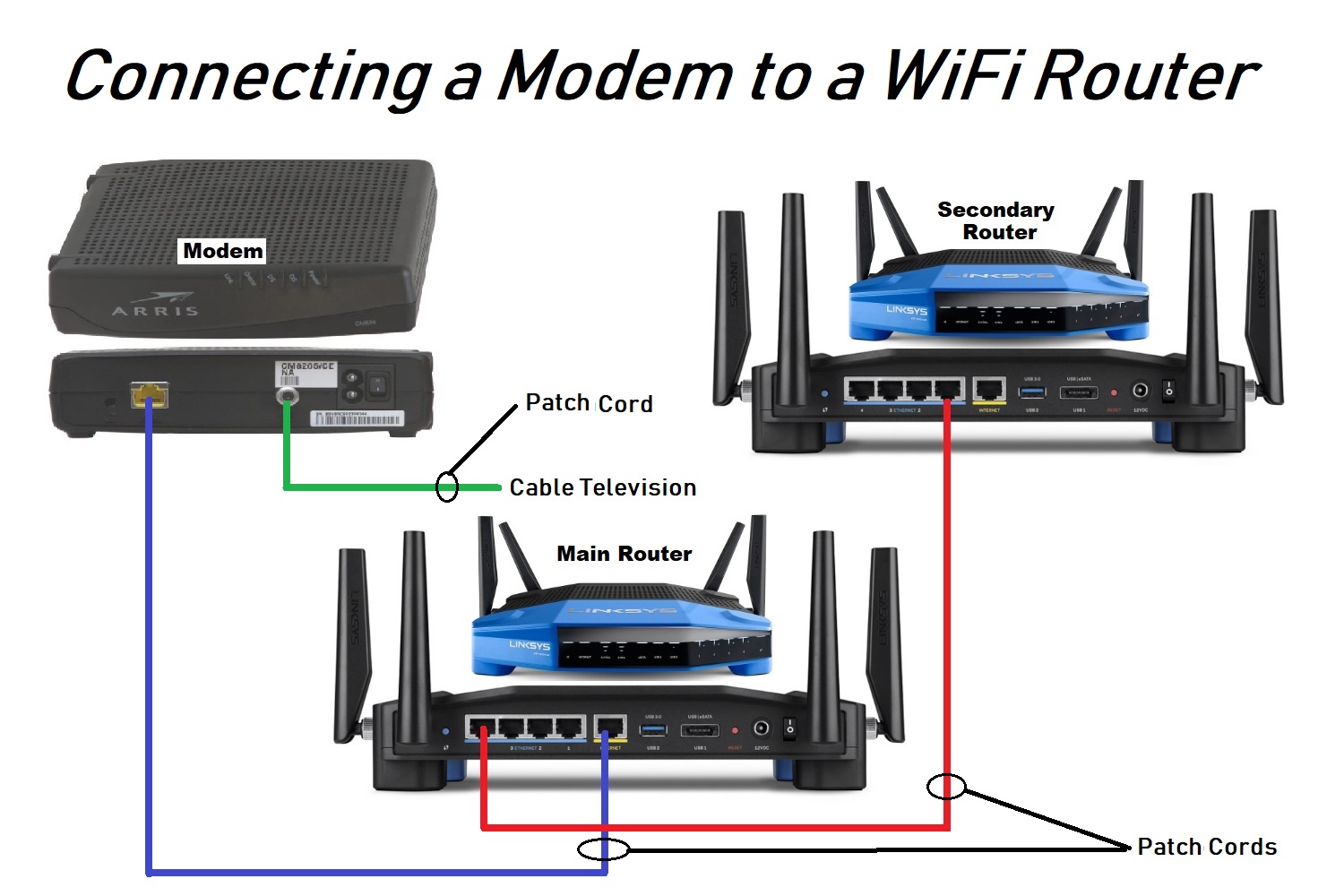 Once both the modem and router(s) is working, you may have to default the new router to its default settings, especially if it's not new. To do this, find the reset button and press it using a pen tip for at least 3 to 10 seconds. In addition, you will have to program your new WiFi router to protect your connection from outsiders (refer to the user guide).