Cables - Shop Cat6 Ethernet Cables, Cat5e Ethernet Cable, Cat5 Ethernet Cable, Fiber Optic Cables
---
Cables For Sale - Fiber Optic Cables, Network Cables, Outdoor Cables, Bulk Ethernet Cables, Cat6 Cables, Cat5 Cables, Cat5e Cables, Crypto Cables.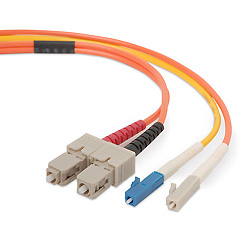 Using Fiber Optic Mode-Conditioning Cables
When some ethernet transceivers, routers, etc. need to work with multimode fiber optic cables, mode-conditioning fiber patch cables will be required.
by Vikas Dayal • July 22, 2022
---
While far from obsolete, fiber optic cables, both single mode and multimode, came around before ethernet technology was invented, and long before it came into popular use. Today, these technologies operate in tandem, along with cellular, wireless and others to transmit data signals all over the world. What you may not have known is that some gigabit ethernet technology also uses fiber optic light in its data transmission, and depending on the type of transceiver, and the cables, routers and switches involved, mode-conditioning fiber patch cables may be required to keep everything working seamlessly.
Before we talk more about mode-conditioning cables, let's review some of the differences between single mode and multimode fiber optic cables.
Single mode fiber optic cables, with a single strand of glass fiber in their core, can transmit a single data signal at the highest speeds available in the data cable industry. Because of their construction and the way light travels through their single strand fiber core, they can also span longer distances than their multimode counterparts.
Multimode fiber cables, with multiple strands making up their fiber core, can transmit multiple data signals simultaneously, significantly increasing their bandwidth when compared to single mode cables. However, due to the way light travels through their core, and the fact that multiple signals travel simultaneously, multimode fiber cabling is far outpaced by single mode cables in terms of data speed and integrity over longer distances.
Because of the differences in the way light travels through their fiber cores, the number of data signals and additional differences in their construction and intended uses, single mode and multimode fiber optic cables aren't directly compatible with one another. This rarely, if ever, causes issues in terms of fiber optic cabling itself, since the two are used for different applications. However, when ethernet technology comes into play, the type of fiber optic light generated by its transceivers must potentially work with both types of cables.
When newer, high-speed ethernet (1000BASE-LX and 1000Base-LH) transceivers, routers, etc. (transmitting at 1300nm or 1310nm optical wavelengths) need to be added into systems with existing multimode fiber optic cables, mode-conditioning fiber patch cables will be required.
To achieve the highest-possible data speeds, 1000BASE-LX/LH ethernet devices output data via laser light appropriate for a single-mode fiber optic cable. To integrate this type of ethernet device into an existing multimode network, mode-conditioning patch cables work by offsetting the single mode light signal from the center of the fiber core and projecting it at a precise angle into the multimode fiber.
To use a mode-conditioning patch cables properly the single mode side of the patch cable (usually yellow) must be connected to the transmitting or output side of the single mode ethernet equipment, while the multimode side (usually orange) to the receiving or input side. Failing to properly connect the mode conditioning cables will disrupt connectivity and may even damage one or more of your devices.
Mode conditioning patch cables should never be used with 1000BASE-SX or any 850nm short optical wavelength equipment.
Mode-conditioning fiber optic patch cables usually come with LC or SC connectors. We also offer ST connectors, and we have LC-to-SC and LC-or-SC-to-ST options available in various lengths. You will also be able to specify prior to checkout which end the various connectors should be on. As always, if you don't see what you need, check out our custom cable builder tool or contact our customer service department.
Both single mode and multimode fiber optic technologies continue to play a significant role in bringing connectivity for internet access and telecommunications of all kinds, all over the world. Gigabit ethernet technology also factors in heavily for many homes, businesses and network providers. Luckily, the technology required to keep everything working in tandem is here too, and just a click or call away.
SHOP CABLES NOW:
CAT5 CABLES - CAT5E CABLES - CAT6 CABLES - CAT6A CABLES - NETWORKING CABLES - FIBER OPTIC CABLES - OUTDOOR CABLES
---