Cables - Shop Cat6 Ethernet Cables, Cat5e Ethernet Cable, Cat5 Ethernet Cable, Fiber Optic Cables
---
Cables For Sale - Fiber Optic Cables, Network Cables, Outdoor Cables, Bulk Ethernet Cables, Cat6 Cables, Cat5 Cables, Cat5e Cables, Crypto Cables.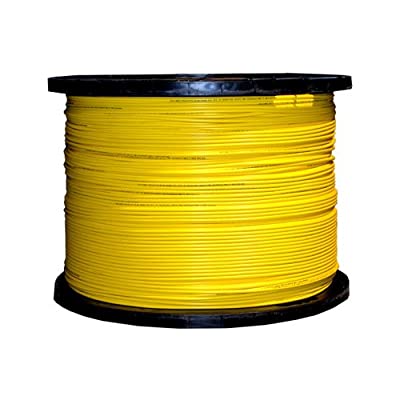 Buying Bulk Fiber Cables
For larger installations of fiber optic cable, buying bulk cable becomes the obvious and most economical choice.
by Vikas Dayal • August 19, 2022
---
For larger installations of fiber optic cable, sometimes buying individual fiber cables just doesn't make sense. At Cables.com, we offer both single mode and multimode fiber optic cable in bulk. Our bulk cable selections include riser-rated single mode cable, 10Gb OM3 fiber cable, PVC riser-rated multimode cables and more, all at very reasonable prices. Save money and get exactly what you need by buying in bulk.
When one or more large projects may require 100s or 1,000s of feet of fiber optic wiring, buying bulk cable becomes the obvious and most economical choice. For contractors and installers, bulk fiber optic cable also lends the flexibility to purchase ahead of time for a more extensive project or keep fiber optic cable in stock, and on hand when needed, for any number of different clients and installations.
Buying bulk fiber optic cable involves some additional considerations from the usual decisions about single mode, multimode, etc. It's important to consider the type of installation(s) and the environments where the fiber wire will be installed. This includes whether the cable will be exposed to any weight/tension, its location indoors or outdoors, if additional hardware such as connectors and other accessories may be needed, and the construction of the cable with respect to how easily it can be cut to the necessary lengths and terminated in the various ways required by the project.
Our single mode PVC fiber optic cable, for example is riser-rated. This means that it's safe for installation between floors in multi-story buildings. Primarily a consideration in terms of reducing fire hazards, riser-rated cables are self-extinguishing and will not contribute to flames burning upward from one floor of a building to the next. Notably, the requirements for riser-rated cables are not as strict as those for plenum-rated cables which must additionally be smoke and fume-free when exposed to flame and higher temperatures.
All of our bulk fiber cabling has convenient zipcord construction which makes for easy separation when the cable is cut to length. Whether the cable will be finished with LC, SC or other connectors, or wired directly into another system component, this construction is designed to make the installer's job easier.
When buying bulk fiber optic cable, don't forget the components, accessories and tools you need to finish the job (or jobs) you're planning. In terms of connectors, we carry everything to help you finish your fiber optic wires with common LC-to-LC, SC-to-SC and other configurations. In fact, we carry LC, SC and ST connectors you can use to create any configuration required. You'll also find fiber optic enclosures on our site, most including cable holders and ties as well as mounting screws to complete the installation. And don't forget the cutters, testers and other tools you'll need for the job.
In addition to high-speed Internet installers, professionals in the music, audiovisual and many other industries may need to order bulk fiber optic cable. Take a look at the options on our website or give us a call if you find you have any questions about selection, pricing or if you don't see what you're looking for. We specialize in bulk and custom cable orders and pride ourselves on excellent customer service.
Shop Bulk Fiber Optic Cables Now
SHOP CABLES NOW:
CAT5 CABLES - CAT5E CABLES - CAT6 CABLES - CAT6A CABLES - NETWORKING CABLES - FIBER OPTIC CABLES - OUTDOOR CABLES
---