Cables - Shop Cat6 Ethernet Cables, Cat5e Ethernet Cable, Cat5 Ethernet Cable, Fiber Optic Cables
---
---
Stepping up your Network: CAT7 and CAT8 Ethernet Patch Cables
Category 7 and Category 8 ethernet patch cables and cords
What you can expect from the Category 7 and Category 8 ethernet cords available on Cables.com.
by Vikas Dayal • December 13, 2022
Patch Finder, Fiber Optic Cables, Datacomm Cables, Data Center, Custom Cables, Category 7 Ethernet Cables, Cat5e / Cat6 Cables, Cables.com
---
Cat6 network patch cables are among the most commonly used and discussed, but they aren't the be-all-end-all of ethernet cables. In this post we'll discuss the option to "future proof" your network with Cables.com's Category7 and Category8 cables. Far superior in terms of speed and protection of your data, you'll want to consider these ethernet cords when you're serious about making sure your network is functioning at its absolute best.
Cat7 and Cat8 Ethernet Patch Cables: Safety and Strength for Your Home or Business Network
With network speeds constantly on the rise, it's hard to keep track of what you an expect for your data management. Singlemode fiber optic patch cables will do the job in some cases, while others call for a more complex multimode fiber cable setup. But what if you need the best of the best, and prefer to stick to a wired network? We'll take a look at what you can expect from the Category 7 and Category 8 ethernet cords available on Cables.com, and why they might be the right choice for you.
Did you know that Cat7 ethernet patch cables are up to ten times faster than Cat6 cables? Cables.com's Category 7 network cables are capable of delivering up to 10 gigabit per second data transfer. This includes data with frequencies of up to 600MHz compared to Cat6's 250MHz. The Datacomm cables available here on Cables.com feature shielded connectors with 50 micron gold plated pins on both ends and consist of four individually shielded pairs inside an overall braided shielded jacket. The connectors are the same you'd find in Cat5e or Cat6 cables, with the key difference being their power and their ability to protect against signal noise and ensure a smooth signal transfer. These cords are available in a variety of lengths between one and one hundred feet and several colors, and you should also remember that you have the option of working with us to order custom cables for your home or business network if you don't see just what you're looking for in our online catalog!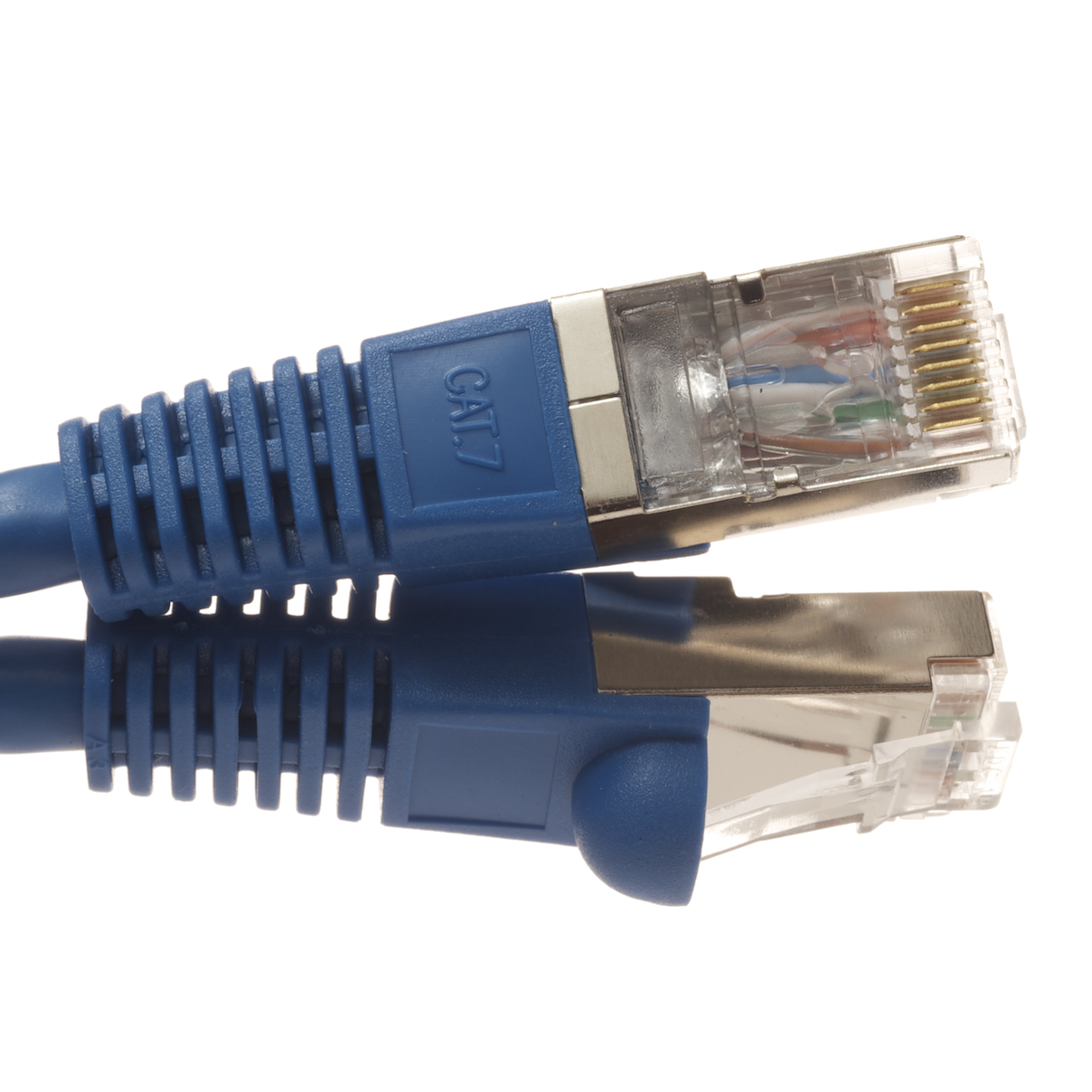 Let's take a look at our Cat8 ethernet patch cables next. These network patch cords are capable of achieving the same speeds you might expect from fiber optic cables. In terms of construction, they're made up of a thick 24awg jacket with each pair foil shielded and an overall braid shield, which provides exceptional signal transfer. You're guaranteed to receive 100% copper cable, available at competitive pricing and shipped fast right to your door. It's also worth noting that our cables come with a lifetime warranty - if they wear out or get damaged over time, Cables.com is ready with the support you'll need to keep your data center operating efficiently.
What should you do if you're having a hard time figuring out exactly which cables are the best ones for your network? With so many options available on Cables.com, it might be difficult to decide. Luckily our Quick Patch Finder for Network Cables and Cords is free and easy to use. Use the drop down menus to identify your particular cable needs, and the tool will point you in the right direction.
If you still have questions, remember that Cables.com is always here to help. Please feel free to reach out to us directly with our Contact form, or give us a call toll-free at 1-800-372-3725.
SHOP NOW: 70ft blue Cat7 Snagless Patch Cable - Cat8 Shielded 40GB ethernet cable 24awg - Cat8 Shielded 40GB ethernet cable 26awg
---