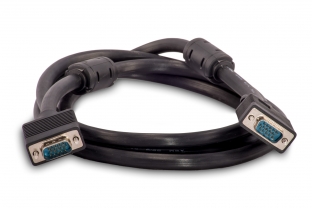 You may be wondering why we are discussing SVGA cables, and why we sell them. There are reasons why. In this blog, I will discuss why SVGA is still used.
In 1987, VGA was first created by IBM. It was known as Video Graphics Array. This was the standard at the time. The problem was it only allowed up to 256 colors at 320 by 200 resolution. In 19990, IBM released the Extended Graphics Array (XGA). It later released XGA-2 which provides 16 million colors at a resolution of 800 by 600 pixels, as well as 1024 by 768 resolution in 65,536 colors.
The Video Electronics Standards Association (VESA) didn't like the direction the monitor's resolution and total colors was going, so they created the Super Video Graphics Array (SVGA), which at the time became known as the VESA BIOS Extension. It became the standard. This type of monitor was able to use 16 million colors no matter the resolution. So it came to be.
Although new specifications have arisen since then, the SVGA system has always been used. The system is compatible with all video equipment. For example, if you want to hook up your computer to a projector, you can, as they do use a SVGA port. If you go for less expensive projectors, you will find they use SVGA ports. The connector has three rows of 5 pins, making it known as HD15 and is typically blue in color. Almost all devices have a female port, so you will need to buy a male to male cable in 90 percent or more of the time.
To clarify, the reason SVGA is the best bargain for you, is that many monitors and LCD screens use SVGA ports. Even HDTV uses SVGA ports. Go to any computer or electronics store, and check out the latest monitor, or large LCD screen. You'll notice there is a port in the back for SVGA and HDMI. The same can be said for a TV.
The reason SVGA is the best choice of cable is that they are high quality cables. They support the new high resolution video cards, without any ghosting problems, you may face with other lower grade cables. Another advantage to SVGA is they contain dual ferrites that filter out any unwanted interference. If you buy one that has a 3.5mm mini stereo plug on each end then you can plug it into the audio jack of your computer to transmit sound along with the picture.
You can use SVGA to connect your computer to your monitor, LCD screen, or a projector. Or, for you movie fans, you can purchase a long SVGA cable and hook it up from your computer to your TV. You will find the cables are double-shielded to meet UL2919 specifications.
If you are interested in purchasing this cable, go to cables.com and order yours today.