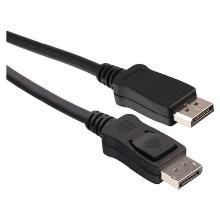 Just why are DisplayPort cables so popular? It's considered the next big thing in PC audio and video signal delivery. It is referred to as a new standard.
A DisplayPort cable can work with any device that has a DisplayPort port. This includes PCs,, laptops, and monitors.
DisplayPort was developed by the Video Electronics Standard Association (VESA) as a replacement for VGA, DVI, and LVDS interfaces. By using a DisplayPort, the audio and video signals delivered are comparable to HDMI, USB, and other forms of data transfer.
What if you don't have such a port? No problem. We do have DisplayPort adapters.
DisplayPort cable does support multi-stream and resolutions up to 4K (Ultra HD) at 60Hz. You can even hook up cable between monitors that are daisy-chained.
All DisplayPort cables support RBR, HBR (High Bit Rate), and HBR2. Or, if you rather, you can hook up four 1080p displays using multi-stream. Can't beat that.
Some people are concerned about the cable's reliability. The one thing to remember here is that DisplayPort cables use pack data, like USB and Ethernet. By this method you either get the signal or you don't.
When you are considering purchasing such a cable, keep in mind there are two types: A full size connector that looks like HDMI, and is most commonly used with monitors with a DisplayPort port, and the other uses a mini DisplayPort connector (such as with notebooks and Apple laptops). You can buy adapters to convert your displayport signal to other digital or analog formats.
Overall, a DisplayPort cable is a great way to connect your PC to your monitor or LCD screen.
If you are interested in purchasing this cable, go to our displayport section and order yours today.