Mode Conditioning Fiber Optic Cables
Mode Conditioning Cables are very specific to each application, so we let you build your own custom Mode Conditioning cables in any length to meet your needs. You can choose from the most popular kinds below or use the custom fiber cable configurator button below to build and price a cable that meets your specific needs.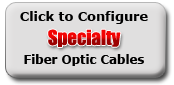 Please call us at 1-800-422-2531 with any questions you may have regarding these or any other cables. Once again, thanks for choosing Datacomm Cables for all you cable needs!
Our fiber optic cables are equivalent to CAB-GELX-625, CAB-SMF-Y-SC, CAB-SMF-Y-FC,CAB-SMF-SC,CAB-SMF-LC-Y,CAB-MTRJ-SC-MM, CAB-MMF-SC, CAB-MMF-LC-Y, Cisco Fiber Cable, among others.